Debt Recovery
Recover your outstanding debts as quickly as possible
We will provide you with a bespoke debt recovery service, tailored to your needs. Our clients, who range from PLCs to individuals, tell us that personal service is the key to our success. We take time to understand your specific needs and objectives.
We deal with the total debt recovery process  from commencement of money claims, obtaining judgment; enforcement to all related insolvency issues.
If the debt claim becomes defended we will deal with the issues on your behalf. We will explain the cost implications. We will advise on merits and try to reach  a commercial settlement. No jargon. No hidden fees.
Once instructed we will write to the debtor on the same day instigating the claim. Click here to find more about how we will recovery your debts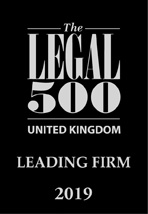 Legal Directory LEGAL 500 (2019 Edition) has this to say about our Debt Recovery Team
LCF Law's 'pragmatic and commercial' team 'always goes the extra mile to make sure the issue reaches its end in an easy and successful manner'; it is 'constantly looking to cut through any problems and challenges with the best possible end goal in sight'.
Department head Andrew Langton has 'commercial experience and excellent insolvency knowledge that is second to none paired with client relationship skills that build a real trusted-pair-of-hands feel'; his recent work includes advising a collection of over £2.5m of debt and assisting another firm with the reduction of its days sale outstanding (DSO).