Property Disputes
Disputes relating Property – Leases, Dilapidations, Tenants, rights of way and more
If you have a property dispute involving whether commercial or residential you require proactive and prompt advice. We exist to make your life easier; to make the complex simple.
We will represent you to achieve a favourable commercial outcome for you. We're great listeners and we understand your situation. We are members of the Property Litigation Association.
Property disputes can be stressful. We are on your side to enable you to get on with the things that are really important to you. We put you in control by identifying where you stand, what your requirements are, what your options are and how best to reach your objectives. No jargon. No hidden fees. Law, Fair + Square.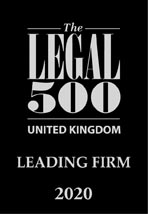 Legal Directory LEGAL 500 (2020 Edition) has this to say about our Property Litigation Team
"LCF Law is noted for its leasehold enfranchisement strength alongside expertise in other landlord and tenant work, acting for clients at both the local and national level. Ragan Montgomery leads the team from the firm's Bradford office and associate Tom Edwards acts for clients in the County and High Courts."
Services
Disputes with – Invalidity of Notices, Lease renewals, Dilapidation's, Repairing Obligations, Assignment, Subletting, Change of Use, Landlord and Tenant, Covenants, Surrender, Forfeiture, Commercial Rent Arrears, Recovery in Commercial property, Possession, Alternative Dispute Resoloution (ADR)