Property Disputes
Disputes relating Property – Leases, Dilapidations, Tenants, rights of way and more
If you have a property dispute involving whether commercial or residential you require proactive and prompt advice. We exist to make your life easier; to make the complex simple.
We will represent you to achieve a favourable commercial outcome for you. We're great listeners and we understand your situation. We are members of the Property Litigation Association.
Property disputes can be stressful. We are on your side to enable you to get on with the things that are really important to you. We put you in control by identifying where you stand, what your requirements are, what your options are and how best to reach your objectives. No jargon. No hidden fees. Law, Fair + Square.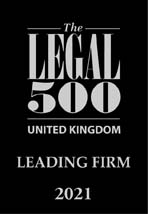 Legal Directory LEGAL 500 (2021 Edition) has this to say about our Property Litigation Team
LCF Law represents local and national clients, including two national charities, in a range of matters, including commercial leasing disputes, lease terminations and forfeiture proceedings. Practice head Ragan Montgomery is praised for her work in financial claims. Tom Edwards has a growing national practice in the field of trespassing and right of way disputes.
Testimonials
'Tom Edwards stands out as fantastic solicitor in the Leeds property litigation community. Tom is extremely good on the law and often provides instructions that make it difficult for counsel to find any new point of law that he has failed to consider. He is very conscientious but, at the same time, provides excellent value for money.'
'Very experienced team abounding with smart and talented lawyers.'
'Ragan Montgomery is a great partner and fantastic with clients. Tom Edwards is brilliant – incredibly intelligent, very hardworking and super knowledgeable. Caroline Deathe is always a delight to work with.'
Services
Disputes with – Invalidity of Notices, Lease renewals, Dilapidation's, Repairing Obligations, Assignment, Subletting, Change of Use, Landlord and Tenant, Covenants, Surrender, Forfeiture, Commercial Rent Arrears, Recovery in Commercial property, Possession, Alternative Dispute Resolution (ADR)