Gemma Talks about Her Passion For Running
Published: 6th November, 2020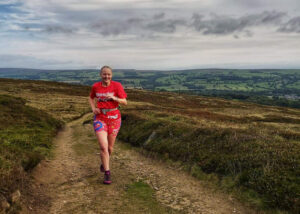 Gemma Sherbourne, is one of our experienced employment lawyers and senior associate within the corporate team. She recently featured in the Yorkshire Post, talking about her passion for running.
Gemma said: "So far in 2020, according to the running app, Strava, I have run 1,238 kilometres, which is unbelievable considering I used to despise running!
"I wasn't particularly sporty at school, although I did play hockey. I was quite small for my age so spent most of the game running to get out of the way! In fact, my mum used to always joke about my lack of running skills, as I had a tendency to run on my toes!
"However, following a friend's little boy's devastating diagnosis with cancer I desperately wanted to do something to help. Martin House Hospice helped to look after him whilst he was ill and provided invaluable support to the family. They deliver specialist hospice care for children and young people in Yorkshire and are always in need of funds for their vital work. That's why I signed up to the Leeds Abbey Dash – a 10-kilometre race that follows a route from Leeds city centre to Kirkstall Abbey and back.
"I started to run about six months before the Abbey Dash around my local area in Menston, mainly on the roads. It was tough to start with, but once I got into a routine, I started to improve. I had an old pair of trainers I wore to the gym and although I never looked forward to it, every time I completed a run, I felt great. Thanks to my generous friends, family and colleagues, I raised £866 for Martin House.
"After the Abbey Dash I made like Forrest Gump and just kept running, signing up to a number of organised races. I think setting targets and goals to aim for really helps with running. As 2020 is the year I turned 40, I also made my mind up that I would challenge myself by running a half marathon during the course of the year.
"In late 2019, I joined Airecentre Paces Running Club in Guiseley which has been great. I'm no longer running alone, so there is now a social aspect to my running. Being part of the club came into its own this year. The pandemic has meant so much of everyday life had to stop, but we have been able to run in small groups and it has been a great way to clear my head. I have also largely swapped the road for the trail – you get better views when you trail run and whilst the run up to the top of the moors is tough, the run down is always so much fun.
"In September I also signed up for the Red Cross 'Miles for Refugees' challenge, aiming to run 108 miles during the month, which is the distance from Calais to London, to raise money for the Red Cross refugee appeal. I was a member of the Red Cross when I younger and support their work, but also the plight of refugees and the unfortunate response from some quarters has saddened me. Again, I felt like I wanted to do something to help. My friends, family and colleagues stepped up again to sponsor me and I ran 112 miles and raised over £500.
"My running has taken me all over the local area, including some lovely trails to The Twelve Apostles, Rombald's Moor, Otley Chevin, Cow and Calf and the Washburn Valley. I've also achieved my goal of running a half marathon, completing the Baildon Boundary Way Half Marathon this weekend. Dubbed 'the greatest trail half marathon in the country' it was more of a mud bath thanks to all the recent rain – but I felt a real sense of satisfaction to have done it. I'm going to take a couple of days off, but my passion for running is still great – as is the need for a new pair of trail shoes!
---
Gemma Sherbourne is a Senior Associate solicitor in our Employment Law department.
Based in our Leeds office Gemma carries out the full range of employment services, including advising on TUPE and restrictive covenants, performance and sickness absence management, redundancy, disciplinary and grievance procedures and other day to day advice.
Gemma conducts her own advocacy in the employment tribunal and regularly provides training for clients on a range of matters.
Find out how Gemma can help you call 0113 2384 041  or email ku.oc1620716799.fcl@1620716799enruo1620716799brehs1620716799g1620716799