Bristow & Sutor acquires Sheffield-based credit management business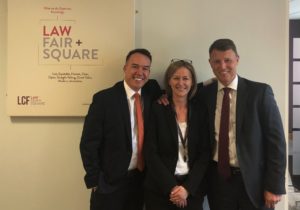 Bristow & Sutor, the nationwide judicial services and debt recovery group, has acquired Sheffield-based credit management business, Credit Style.
This is the second acquisition Bristow & Sutor has made since Sovereign Capital Partners backed the MBO of Bristow & Sutor in June 2017.
Bristow & Sutor support the collection of commercial and local authority debt types. The acquisition of Credit Style broadens the Group's services into wider debt recoveryincluding in-house legal services and pre-legal collection services; this will enable the Group to provide more customers with an end-to-end service. The expanded Group will manage c.1.9 million cases per annum.
The Bristow & Sutor management team is led by Andy Rose, CEO, who has been in the business for over 30 years. Richard Martin and Steven Bramley, [pictured above with Susan Clark] Managing Directors of Credit Style, will join the management team of the combined Group.
Andy Rose, Chief Executive, Bristow & Sutor, said: "We are delighted to welcome Credit Style and its fantastic team to the Group. We share great business synergies and a reputation for providing a quality service delivery grounded in high standards of professionalism and business conduct. We look forward to further diversifying our service offering with Sovereign's continued support."
Richard Martin, Managing Director, Credit Style, said: "We are pleased to have taken Credit Style from strength to strength and look forward to the new opportunities that joining the Bristow & Sutor Group brings. Our optimism is fortified by the fact that both businesses share key values around client service, quality and social responsibility. We would like to thank Mazars and LCF Law for their support throughout this process."
A Mazars Deal Advisory team of Oliver Hoffman, Chris Dale and Harry Radburn, based in Leeds, led the deal, while Susan Clark, Clementine Duckett and Will Reynolds of LCF Law provided legal advice to the shareholders.
Oliver Hoffman, Head of M&A at Mazars Deal Advisory, said: "This has been an excellent deal to be involved in and we are pleased to have achieved a successful outcome for the shareholders of Credit Style. We wish the new management team well in achieving their vision for the combined group."
Partner, and Head of the Corporate Department at LCF Law, Susan Clark, said: "We are delighted to have helped Richard and Steven achieve their goal and look forward to supporting them in the future as they embark on another exciting chapter for the business."