Harriet Thornton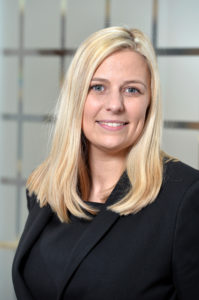 Harriet is a Partner and heads up the leasehold enfranchisement division of the firm's property team from its Bradford office.
Harriet has been solely responsible for growing this department  following her expertise in leasehold enfranchisement where she assists landlords and tenants with lease extensions and purchases and sales of their freeholds.
LCF Law is now one of the leading regional law firms in this specialist area – with Harriet very much at the helm.
Her expansive range of skills and knowledge across commercial property includes offering expertise in site acquisition and development, commercial leases and portfolio management with a particular interest on charities.
Harriet and her team pride themselves on being friendly and practical when liaising with landlords and tenants – whether that's helping to sell freehold reversions or leaseholders who have been served with Section 5 Notices across London, Greater Manchester, North Leeds and Harrogate.
Her team also provides clients with fixed fee staged costs throughout the process, done per flat when dealing with collective enfranchisements, to make things easy to understand and clear for the leaseholders. This development has been welcomed by leaseholders because they know where they stand from the very beginning.
Harriet ensures the team offers the most practical advice when communicating with clients throughout every case, even the most complex, to ensure the best possible outcome is reached.
On an individual level, Harriet won the Young Professional of the Year Award at the national Enfranchisement and Right to Manage Awards in 2015, where she was the only representative from the North of England named in the category. She was shortlisted again in these awards in 2016 and in 2018  she was shortlisted in the category for ' Regional Solicitor of the Year 2018′ in the Enfranchisement and Right to Manage Awards.
Harriet trained with LCF Law, qualifying as a solicitor in 2008, and is a member of the Association of Leasehold Enfranchisement Practitioners.
Outside of work, Harriet enjoys travelling, spending time with her family and dog and is the captain of her local netball team.
"We have worked with Harriet for many years and have always been impressed with the depth of her knowledge relating to leasehold enfranchisement. She has keen commercial sense which ensures clients receive the best advice in relation to their circumstances." – J.Rhoades
Call Now : 01274 386 597