Divorce + Separation
Relationship breakdown – divorce and separation
Sadly, marriage is not always for life. It is in your interests for us to work to ensure a swift resolution without court proceedings, if possible and their inherent costs. We are not here to create a war with your spouse but if issues arise that need a firmer approach, rest assured, we will fight your corner.
If you are unmarried and simply living together, you need to be aware that there is no such thing a 'common law spouse' and the law that applies to an unmarried couple is very different. It is vital that those who choose not to get married are aware of their potentially vulnerable position if the relationship breaks down.
Prevention is better than cure and in our experience taking time to plan and protect your assets by Pre or Post nuptial agreement, Living Together agreement, or a Civil Partnership agreement is time and money well spent. We know relationships may not last forever but we can minimise the hurt in any separation by planning at the outset.
The firm provides specialist coverage of private children law issues and financial matters involving complex pension structures and offshore arrangements and whose expertise includes advising high-net-worth individuals on children cases, pre- and post-nuptial agreements, and cases involving complex business or trust structures".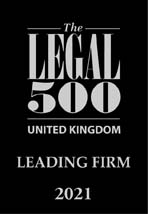 Legal Directory LEGAL 500 (2021 Edition) has this to say about our Family Law Team
LCF Law acts for clients in divorce and separation proceedings involving client-owned businesses, negotiations over matrimonial assets, and third-party involvements, alongside child custody disputes. The team is led by Neil Shaw, who heads up the firm's personal law practice, and family law group head Rachel Spencer Robb, who has extensive experience in high-value matrimonial finance, asset protection, and children law matters, utilising collaborative law and mediation methods."