Big Northern Quiz raised funds for Leeds Community Foundation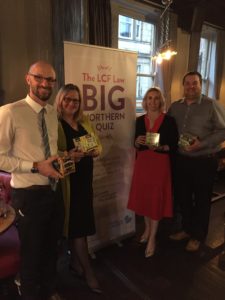 A fundraising quiz night organised by LCF Law and attended by 80 professionals, has raised £1,752 for Leeds Community Foundation - an organisation that supports thousands of charities and voluntary groups across Leeds - distributing grants and sharing advice.
Big Northern Quiz
'The LCF Law Big Northern Quiz', which has been running for three years, was held at The Adelphi in Leeds.
LCF Law's partner and event organiser, Cathy Cook, said: "The teams were made up of people from professional firms, banks and clients that we work with in Leeds. We started off the evening with a challenge to build bridges out of straws and playdoh. With strict criteria - the bridges had to be no smaller than 15cm high and capable of balancing a crème egg for at least 15 seconds - everyone embraced the challenge, with Chamberlain & Co winning the novelty round.
"With several other rounds, including a sports one, the scores were tallied up and prizes awarded to the top three teams. The 'Brain Box' team from Naylor Wintersgill (pictured above) came first, the 'Clever Clogs' team from Chamberlain & Co came second and the 'Smarty Pants' team form Ford Campbell Freedman took third place. It was a great night and most importantly we raised a significant sum for Leeds Community Foundation.
Leeds Community Foundation
"There is a huge amount of deprivation in Leeds and Leeds Community Foundation provides support to individuals and organisations in our City working to close the gap and make a difference. There are lots of small charities and community groups working hard to alleviate issues as diverse as holiday hunger for school children to loneliness amongst the elderly. As a successful Yorkshire business with a big presence in Leeds, we're delighted to contribute to their efforts."
CEO at Leeds Community Foundation, Kate Hainsworth, said: "Leeds Community Foundation are thrilled that the quiz was such a success and that such a huge amount was raised; all monies raised go towards supporting The Leeds Fund that enables us to support more life-changing projects."