Partnership & Shareholder Disputes
LCF Law is regularly instructed in disputes about partnerships, limited liability partnerships and limited companies. Our years of experience acting in partnership and shareholder disputes has allowed the lawyers in our Disputes Team to appreciate the disruption that partner/member disputes can have on our clients' businesses. We therefore understand the necessity of proactively seeking swift and cost-effective solutions, so that our clients can focus on their businesses.
Shareholder and partnership agreements – prevention is better than cure
For private companies, particularly ones with a relatively small number of shareholders who are involved in running and managing the business, it is important to have a shareholders' agreement in place as this will help to reduce the likelihood of shareholder disputes.
Preparing such an agreement helps shareholders to work through some key issues which could give rise to potential disputes at a later date. It also encourages shareholders to work through possible future scenarios at the outset whilst relationships are still good.
Amongst other things, a good agreement will cover:
the company's key objectives
what authority is required to take certain actions
company financing
dividends, directors' payments and salaries
responsibilities for different areas of the business
As far as possible, the agreement will anticipate potential issues and what should be done about them: such as what happens if the company needs to raise additional finance, it wants to take on new high value contracts or it needs to employ new, highly paid executives or employees. An agreement will usually set out that a majority of shareholders – or even all of them – will need to give their approval before the company can make the proposed changes.
A shareholder agreement will likely also cover how a shareholder can realise their investment in the company including: if there are any restrictions on selling their shares; how a shareholding will be valued; and if the other shareholders or the company have the right to buy the shares.
A shareholders' agreement would usually be expected to provide a timetable for any share sale as well as allowing for the appointment of an independent third party to value the shares if a valuation cannot be agreed. This is particularly important where a shareholder's exit from a company is not on amicable terms.
Agreements should also cover a list of events which would automatically trigger a requirement for the shareholder to offer to sell his or her shares to the other shareholders such as the death of a shareholder or the departure of a shareholding director.
All too often, however, these elements are not properly considered or an agreement is incorrectly drafted and, as a result, disputes arise; in addition to any issues or disputes that arise from the day to day operation of a company.
Common causes of disputes
There are many potential causes that can arise including:
disagreements over strategy
poor personal relationships, politics and power struggles
a change in personal circumstances for any of the key players in the business
dealings between the company and any private business owned by one of the directors
other conflicts of interest
board performance on its governance and legal responsibilities
financial issues, including potential insolvency
remuneration levels and benefits
disproportionate contributions of money and/or time from each shareholder or partner
the price to be paid when a shareholder or partner is bought out or forced to leave the business
The problems can be particularly acute where one shareholder, or group of shareholders – or partners – acting together, can override the wishes of a minority shareholder.
Disagreements between shareholders
In general, most disagreements between shareholders are eventually resolved by a voting majority. Protection is available, however, in certain circumstances, for minority shareholders where majority shareholders are abusing their position.
Where a board wants to dismiss a director they need the approval of shareholders. As such they would need to call a general meeting accordingly. A chairperson or managing director can be removed from their post by the other directors but the person concerned will still remain as a director of the business.
If the director is also an employee, the directors need to take care to ensure that the dismissal process respects their employment rights. Notably their notice period under their contract or as specified by law, along with their right not to be unfairly dismissed. Otherwise the director concerned may be entitled to claim compensation for breach of those rights.
Accordingly it is more usual for directors to be encouraged to resign rather than be forced out of post. Usually a compromise agreement will be drawn up covering the risk of any future claims as well as the director's likely involvement in competing businesses.
Enforcing your rights as a shareholder, member or partner
There are various options, including:
proposing a resolution at a general meeting or partnership meeting which redresses the situation
mediation services to settle a dispute
asking the board of directors to take action in the company's name against an individual director (shareholders generally cannot sue in the company's name)
for any criminal acts, report or complain to the police
applying to the court for an order that the company is acting or has acted unfairly (an 'unfair prejudice' action)
applying to the courts for the company to be wound up
suing the directors for negligence by means of a 'derivative action'
If you do intend to take action then we recommend that you take legal advice at the outset on the best approach to adopt so that you have a good understanding of the likely outcome of any dispute, the chances of success and the timescales and costs that may be involved.
Every dispute has its own particular dynamics and circumstances. Accordingly we offer a free initial consultation – without any obligation on your part – to discuss your situation, understand what is involved and work out how best to advise and support you. This enables us to give you an idea of what may be involved; and, if possible an indication of what may be involved from a cost point of view. In every situation our aim is to get to a viable and commercial outcome for our client as cost-effectively as possible, taking into account all the risks and variables involved.
We believe it is important to be as open and upfront as possible about the likely charges and costs involved in all aspects of our advisory work. In most cases we charge at an hourly rate. We will, however, always aim to give you a good idea of what we think may be involved based on our extensive experience and knowledge of your particular circumstances.
How we can help you
Our lawyers are experts in combining technical and legal expertise with commercial-mindedness to provide effective, client-led solutions. The Disputes Team is supported by our Corporate and Employment teams, enabling LCF Law to act for clients in resolving disputes and on ongoing corporate and employment matters.
We act in a broad range of shareholder disputes, including:
Unfair prejudice petitions on behalf of minority shareholders
Disputes over the valuation of shares
Derivative actions on behalf of companies against directors and other companies
Disputes relating to breaches of a shareholders' agreement
Breach of warranty claims
Petitions for the winding up of a company
Enforcement of rights to purchase or sell shares under sale and purchase agreements
With regard to partnership disputes (including LLPs), our work often involves advising on:
Disputes following the dissolution of a partnership
Notice procedures and partner resignations generally
Suspension and/or expulsion of a partner
Breaches of restrictive covenants by retired or expelled partners
Why Clients Choose Us
LCF Law's Disputes Team has a deep understanding of all aspects of corporate and employment law and the various disputes that arise. In addition, as you would expect, we have extensive experience and knowledge of partnership disputes including Limited Liability Partnerships (LLCs).
We are regularly instructed on partnership disputes. Our clients include several law and accountancy firms. We also act for many professionals in their personal capacity, including lawyers at Top 20 law firms. Our clients benefit from our big firm experience and our lower charge out rates.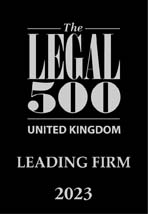 The Legal Directory LEGAL 500 (2023 Edition) has this to say about our dynamic Disputes Team:
'A cohesive and highly effective team. First class litigators.'
'The commercial litigation team at LCF provide a clear and focused analysis of the problem, cutting through apparent complications to produce a range of practical solutions. Priority is given to solutions that are cost conscientious and expedient from a business perspective.'
'The stand out quality of the individuals we worked with was the desire to find simple solutions to problems that others are trying to make unnecessarily complex.'
'The firm is thoroughly professional in its approach to its work.'
Call Us Now
Our solicitors are ready to help you. Click on Contact Us, use the Contact form above, or send a message direct to one of the team working in this area from their business cards below.