Debt Recovery For Businesses
Recover your outstanding debts as quickly as possible.
We will provide you with a bespoke debt recovery service, tailored to your needs. Our clients, who range from PLCs to individuals, tell us that personal service is the key to our success. We take time to understand your specific needs and objectives.

There are several options open to you.
Letter Before Action
This is the first step in the process and it sets out the details of the claim, which include:
The basis on which the claim is being made
A summary of all the relevant facts
The details regarding exactly what you are seeking as a claimant from the other party (the defendant)
Making a Claim with the Small Claims Court
The Small Claims Court is cheaper than a claim in the High Court, and they deal with claims up to £10,000. The claims are heard by a county court, and is simpler and more streamlined than the High Court.
Chasing a Judgement Through Enforcement
If you are successful in court and are awarded a judgement, it can still be the case that the other party does not pay. If that happens then the debt needs to be recovered by having the debtor appear in Court to be questioned; this can lead to a payment or, for judgements up to £5,000, the option to send bailiffs to seize and sell the debtor company's goods.
Issue a Winding-up Petition
This is an option if an insolvent company fails to pay a debt greater than £750 which is overdue by at least 21 days. The Winding-up Petition is advertised in a publication called 'The Gazette'; if it is not successfully opposed then the company can be compulsorily liquidated. This closes the company and its assets are liquidated for the benefit of all of its creditors. If there is enough money to be shared between the creditors then you will get some or all of what is owed to you, depending upon how much is raised by the liquidation.
We deal with the total debt recovery process from commencement of money claims, obtaining judgment; and enforcement to all related insolvency issues.
If the debt claim becomes defended then we will deal with the issues on your behalf. We will explain the cost implications. We will advise on merits and try to reach a commercial settlement. No jargon. No hidden fees.
Once instructed we will write to the debtor on the same day instigating the claim.
Time Scales
A typical debt recovery is always dependant on the letter before claim being responded to from the other side.
This may be quicker or longer depending on whether we are required to issue a claim and whether the other side pay promptly on receipt of any Judgment issued by a court. As detailed above, if enforcement action is required, we will discuss the fees and timescales involved.
Key Milestones
With every transaction there are key milestones, which may vary according to individual circumstances. Our fee will include these milestones and may be as follows:
Taking your instructions and reviewing documentation
Undertaking appropriate searches
Issuing a letter before action requesting payment from the debtor
Receiving payment and sending this on to you
Drafting and issuing a claim form to the relevant court if the debt is not paid
Applying to the court to enter a Judgment in Default if the debtor fails to respond to court proceedings
Contacting the other side to request payment where a Judgment in Default has been issued by the court
Debt Recovery:
We appreciate that the fees involved in debt recovery are important to you. We review our fees on a regular basis, considering client's feedback, to ensure we continue to offer a cost-effective debt recovery service.
If during the debt recovery process, the matter becomes disputed or enforcement action is required (where you need to appoint a bailiff), we will discuss the change in fees with you and agree a way forward.
When claiming costs from the debtor, it is important to note that the VAT element of any fees cannot be claimed.
You can claim interest and compensation and we will advise you of the applicable rates.
| | |
| --- | --- |
| Item | Range of Costs |
| Letter before action | £30.00 (VAT Included) |
| Commission on recoveries | 12% plus VAT |
On issue and conduct of proceedings through the Central Court Centre we will include in the claim the court fixed costs in accordance with those set out in Part 45 of the Civil Procedure Rules for all proceedings and methods of enforcement undertaken and relevant court fees or disbursements. These will be payable by you to us if not collected from the debtor.
In addition to the fixed costs and relevant court fees or disbursements we charge set fees for the following actions and enforcement:
| | |
| --- | --- |
| Item | Range of Costs |
| Application to suspend or vary | £54.00 (VAT Included) |
| Attachment of Earnings Order | £120.00 (VAT Included) |
| Charging Order | £180.00 (VAT Included) |
| Removal of Charging Order | £60.00 (VAT Included) |
| Third Party Debt Order | £180.00 (VAT Included) |
| Set Judgment aside (without notice) | £60.00 (VAT Included) |
Insolvency:
Statutory Demands
Our charge is £150.00 (VAT Included), together with the disbursement costs of the process server.
Bankruptcy and Winding up Petitions
Bankruptcy and Winging up Petitions fixed fee of £900.00 (VAT Included) and disbursements.
Defended actions
Charges for work on Defended claims are at the hourly rate of £200.00. If any matters become disputed we will contact you and set out your options, the likely costs, the cost benefit and the potential timescale to conclusion.
To enable you to monitor and budget for costs, we shall deliver bills to you regularly, usually at monthly intervals. Invoices become due and payable 14 days from the date of issue.
Exclusions
There may be factors which would typically increase the cost of the fees. Where there is likely to be any additional cost, we will make sure you are informed of this at the earliest opportunity and a clear estimate of those extra costs will be provided.
Factors that may lead to an increase in cost include:
Enforcement proceedings
Instructing a Bailiff
Why Clients Choose Us
We have an experienced team who can assist you with recovering both disputed and undisputed debts. This page covers our pricing for undisputed debt recovery - please get in touch to find out more about our fee structure for pursuing disputed debts. We pride ourselves on exceptional customer care skills enabling you to send out the right message and retain the goodwill of your customers whilst recovering outstanding payments.
We can offer you clear, practical advice and will discuss all the options available to establish the most appropriate way of dealing with debtors. We have tried and tested processes in place to ensure we can recover undisputed debts quickly, efficiently and cost-effectively, with transparent fixed fees.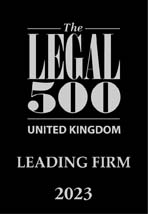 Legal Directory LEGAL 500 (2023 Edition) has this to say about our Debt Recovery Team
LCF Law's debt recovery team is instructed by local SME's as well as PLCs throughout the UK, accountants and insolvency practitioners. Beyond collecting debts, the group also assists with rehabilitation and advises on credit policies, credit assessments and internal credit control processes. Charles Abraham leads the team, in which Andrew Langton also stands out.
Testimonials
'The level of knowledge and expertise is excellent with a clear focus on customer service.'
'LCF have quickly picked up an understanding of our business and the business needs. LCF quickly draw down on the detail and deliver what we need; commercial solutions to what can be some very complex challenges. They never lose sight of the target and as result LCF have delivered some unbelievable results.'
'Always very helpful and on hand to speak to directly if we need some advice.'
'LCF have the ability to embrace the requirements of maintaining our customer service ethos right through to high-end litigation. The Team is highly capable and have the scalability that we require as our business grows. They offer solutions to complex situations in laymen terms to offer the best solution.'
'I have worked with Andrew Langton for a number of years now and I have always found his practical and commercial approach perfect for my requirements. He has achieved some excellent results where other third parties have failed.'
 'Andrew Langton goes above and beyond in terms of service delivery, always available and looks for solutions in every situation. Very practical and pragmatic in his approach.'
Call Us Now
Our solicitors are ready to help you. Click on Contact Us, use the Contact form above, or send a message direct to one of the team working in this area from their business cards below.