Commercial Disputes & Litigation
Disputes happen. When they do, you will need experienced specialist lawyers on your side. People who've been there before. Seen it. Done it.
Consulting our team early often identifies a course of action that can resolve a potential dispute before Court action occurs. Our team includes accredited mediators trained in facilitation and negotiation.
When disputes result in Court action, you need clear advice, regular updates and clear information about costs before they are incurred. We provide strategic advice and clear direction. We cut through the jargon and eliminate surprises.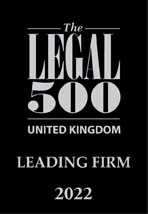 Legal Directory LEGAL 500 (2022 Edition) has this to say about our Disputes Team
LCF Law's disputes department 'combines fantastic legal knowledge with a practical and cost-effective approach'. It frequently acts for high-net-worth individuals and SMEs in a range of commercial litigation and is increasingly developing its experience in the utilities sector. 'Astute litigator' and 'exceptional strategist' Charles Abraham, who attracts praise for his 'deep knowledge of partnership disputes', leads the team alongside Bradford-based Ragan Montgomery. 'Excellent' associate Roger Raper is another name to note for shareholder and director disputes.
Testimonials
'LCF combines fantastic legal knowledge with a practical and cost-effective approach.'
'A very effective team with strength in depth, led by Charles Abraham.'
'The team's ability to quickly absorb detailed commercial and sector-specific information allows them to gain a good understanding of quite niche issues and build strong but informed arguments.'
'Charles Abraham is who's needed in a partnership dispute. He forms encyclopaedic knowledge of your case whilst retaining the clarity and direction of an exceptional strategist. His deep knowledge of partnership disputes allows you to have faith that there is always someone on your side and that the next move you make will be the best one possible. I could not recommend his input more highly.'
'Roger Raper: Excellent litigator who clearly sees the key issues and is very easy to work with.'
'Andrew Donaldson was very efficient and understood the case well.'
'Charles Abraham is an astute litigator whose strategic prowess is second to none.'
'Charles Abraham has big firm experience and is able to see the bigger picture. He doesn't get caught up in irrelevant detail. He is effective and efficient – rare qualities for many commercial litigators who often want to adopt a scorched earth policy.'
Call Us Now
Our solicitors are ready to help you. Click on Contact Us, use the Contact form above, or send a message direct to one of the team working in this area from their business cards below.