Charles Abraham is Head of Dispute Resolution at LCF Law and is ranked by the Chambers UK legal directory as a 'leader in his field' for the Yorkshire litigation market. He is described by the Legal 500 as "an excellent strategist."
Charles has acted on numerous high profile and large value disputes. He is experienced in litigation (including applications for injunctive relief), mediation and arbitration. He has been extensively published on litigation matters, including as the author of the Enforcement section in The Litigation Practice, published by Sweet & Maxwell.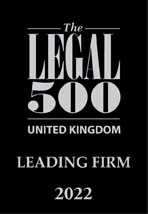 Legal Directory LEGAL 500 (2022 Edition) has this to say about Charles Abraham
LCF Law's disputes department 'combines fantastic legal knowledge with a practical and cost-effective approach'. It frequently acts for high-net-worth individuals and SMEs in a range of commercial litigation and is increasingly developing its experience in the utilities sector. 'Astute litigator' and 'exceptional strategist' Charles Abraham, who attracts praise for his 'deep knowledge of partnership disputes', leads the team.
Testimonials
'A very effective team with strength in depth, led by Charles Abraham.'
'Charles Abraham is who's needed in a partnership dispute. He forms encyclopaedic knowledge of your case whilst retaining the clarity and direction of an exceptional strategist. His deep knowledge of partnership disputes allows you to have faith that there is always someone on your side and that the next move you make will be the best one possible. I could not recommend his input more highly.'
'Charles Abraham is an astute litigator whose strategic prowess is second to none.'
'Charles Abraham has big firm experience and is able to see the bigger picture. He doesn't get caught up in irrelevant detail. He is effective and efficient – rare qualities for many commercial litigators who often want to adopt a scorched earth policy.'
Chambers UK (2021 edition)
Charles Abraham is noted for his considerable experience representing both private individuals and corporate entities in commercial disputes, particularly in relation to breach of contract disputes.
Charles' clients appreciate his attention to detail and his commercial approach:
"Charles is a first rate lawyer. He has always been excellent and is very knowledgeable."
"Charles is very commercially minded and more than any other lawyer I have used, he really listens. What I particularly like about Charles is that, unlike other lawyers that I've dealt with, you don't have to repeat anything. His ability to build and retain a complex picture in his mind is very impressive. You can almost hear the cogs turning in his sizeable brain as he listens carefully, asks pertinent questions and builds a strategic viewpoint."
"Charles' greatest asset is his attention to detail and his ability to retain innumerable aspects in his mind at any given point in a dispute, often remembering minor comments from 3-4 weeks earlier, which transpired to be important as the case developed. This combined with the way he very calmly and coolly presented the case meant that the opposition were blown away. Charles was clearly infinitely better prepared than the other side and their arguments collapsed almost immediately. Charles left no room for error and was unquestionably several steps ahead of the other lawyers."
"Charles is not 'a leading lawyer in Yorkshire' as cited by the directories, he is 'The leading lawyer in Yorkshire."
"Whenever things get a little bit tricky with the business, Charles is inevitably the very first person I turn to."