Employment Law For Employers
The Employment Team at LCF Law advises on all aspects of the full range of employment law issues for business. Whether that is dealing with everyday disciplinary and grievance procedures; ensuring that your contracts, policies and procedures are up to date; defending employment tribunal claims; strategic advice on corporate transactions, restrictive covenants, TUPE; or assisting with negotiating exits for senior level employees and directors.
For further information on some of the areas in which we can assist, please click on the relevant sections below. If you require any further advice, please do not hesitate to contact a member of the Employment Team.
HR services and support for employers
Termination negotiations and settlement agreements
Our employment lawyers offer clear advice and practical support to help you secure the best available outcome as quickly and simply as possible. We aim to be completely transparent about our pricing, so you can be confident our fees are fair and you are getting good value for money.
We are proud to hold the Lexcel Accreditation issued by the Law Society. This involves the firm undergoing a rigorous audit process which ensures we maintain the highest levels of client care.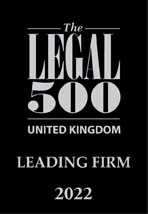 Legal Directory LEGAL 500 (2022 Edition) has this to say about our Employment Law Team
LCF Law's employment practice spans across York and Harrogate and has a specialism in the healthcare sector, acting for a roster of clients including GPs, dentists and care homes. Led by Liz Henry, the group handles senior level exits, unfair dismissal claims, and advises on restrictive covenants. James Austin in Harrogate is described as 'absolutely first class' and represents clients before the Employment Tribunal, and Gemma Sherbourne, who joined from Schofield Sweeney, is the key name for exit agreement planning issues and restructuring mandates.
Testimonials
'I worked with James on an employment issue related to maternity discrimination. James was really personable, knowledgeable but didn't talk in legal jargon. He could succinctly talk about the process and recommendations in simple terms.'
'James easily put me at ease, explaining legalities, but putting things in simple terms. He provided sound advice, counsel and followed this up with detailed explanations on email. James' advice was also pragmatic, taking into consideration what I wanted long term from a career and reputational perspective, rather than simply a commercial or legal point of view which was reassuring.'
'The strength of this practice is without question their ability to listen, ask open questions and not make assumptions. They get to the heart of the matter really quickly and give you an honest answer before you even get going as to hypothetically where this might go. They lean heavily on their experience.'
'James Austin, what a fantastic listener, excellent communication skills, use of questions to obtain the heart of the matter was outstanding. A very calming influence when things got tense. so many lawyers don't give advice, James gave advice and as I took his advice we won. Absolutely first class.'
'Employment Law, straight and to the point. Understands the client.'
'Liz Henry. Fully understands the needs of our business, works to help us reach the required result in a professional and friendly manner.'
Call Us Now
Our solicitors are ready to help you. Click on Contact Us, use the Contact form above, or send a message direct to one of the team working in this area from their business cards below.
Consultant
Corporate - Employment
Partner
Corporate - Employment
Senior Associate
Corporate - Employment
Meet the team