Professional Negligence Disputes
Professional services are relied upon by many as part of their everyday lives. In an ideal world, professionals would always provide accurate and satisfactory services, however we recognise that this is not the case. Mistakes can happen, and when they do, your trust in professional service providers can rapidly evaporate. LCF Law aims to restore your confidence.
At LCF Law, the lawyers in our disputes team possess broad expertise in all aspects of professional negligence. Our lawyers deal with all manner of professional negligence claims including in respect of solicitors, accountants, architects, surveyors, engineers, financial advisors and other professionals.
Whatever the size of the claim, our aim is to put you in control by identifying where you stand, what your requirements are, what your options are and how best to reach your objectives in a cost-effective way. We put our clients' needs first, and pride ourselves on our reputation as being knowledgeable, trustworthy and straight-talking providers of professional negligence advice.
Don't Just Take Our Word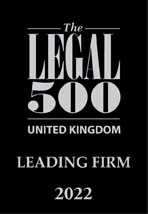 Legal Directory LEGAL 500 (2022 Edition) has this to say about our Professional Negligence Team
Led by Charles Abraham in Leeds and Ragan Montgomery in Bradford, the team at LCF Law specialises in claims against law firms and accountants. The team, which is active in both the real estate and financial services sectors, also includes property disputes specialist Tom Edwards, who was promoted to the partnership in October 2020.
Call Us Now
Our solicitors are ready to help you. Click on Contact Us, use the Contact form above, or send a message direct to one of the team working in this area from their business cards below.