Real Estate Solicitors
Real estate and property law is complex and sometimes confusing, still using words and phrases from the 1800s and 1900s. We understand property law so you don't have to.
Negotiation, attention to detail and fine drafting are key skills that our specialist property lawyers use to achieve the best outcomes for you and to protect your personal or business interests. You can't afford to take any chances with property law.
We will work closely with you to achieve your objectives within agreed time scales, communicating clearly and regularly throughout.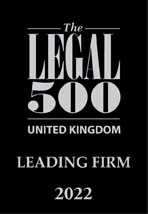 Legal Directory LEGAL 500 (2022 Edition) has this to say about our Real Estate Team
LCF Law's practice is led by Paul Anderson whose 'wise counsel' is sought after in a range of matters, including commercial leases, portfolio management and property finance transactions. He has a niche specialisation in property matters in the retail, healthcare, charity and agricultural sectors.
Other individuals include Ann-Marie Casey, rural planning expert Tim Axe and Harriet Thornton.
Testimonials
'An innate understanding of our concerns. An ability to sift through the smoke and mirrors of the application and an excellent manner and clarity of necessary and important information presented to me.'
'A team which clearly understands the needs of the client and delivers with clarity and style on a cost effective basis time and time again. Very strong in all matters relating to landlord and tenant, offering pragmatic advice and solutions.'
'Top firm led by Paul Anderson and his wise counsel.'
Call Us Now
Our solicitors are ready to help you. Click on Contact Us, use the Contact form above, or send a message direct to one of the team working in this area from their business cards below.