Family and Matrimonial Law
Relationships are complex. Couples today can be married, in a civil partnership, a same sex relationship or just living together. Partners can come from different countries or religions with different views, laws, beliefs and behaviours. Often partners come from a previous relationship with associated assets and responsibilities or they already have assets of their own such as property or a business that they bring into a new relationship.
A couple may be starting a family or, if a relationship is breaking down, they may be trying to work out how best to care for any children involved. Financial matters will always be involved - whether it is agreeing how things will operate before or during the relationship or what will happen in the event of the relationship falling apart. Cohabitation agreements and pre- and post-nuptial agreements are becoming increasingly common and relevant. The law is becoming more and more complex in response to these changes and the complexities of life today. And more and more couples are looking today to take steps to manage the different aspects of their relationship in the event of a possible breakdown.
So, whether in the early, formative stages of a relationship or trying to manage your way through a relationship breakdown, it is essential to have quality legal advice and professional and sensitive support at every stage.
LCF's Family Law solicitors approach every client with sensitivity and understanding. We are here to help with the good things in life; for example, civil partnerships and same sex marriages. But we are also here to support you when difficulties arise, helping you through separation, divorce and with issues that arise with children
We work hard to help you find solutions without resorting to the courts; but when things do escalate and end up in the courts, we fight hard to ensure you receive the outcome you are seeking. We listen sympathetically, and we explain your options and the likely costs involved clearly.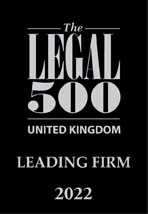 Legal Directory LEGAL 500 (2022 Edition) has this to say about our Family Law and Matrimonial Team
Led by Rachel Spencer Robb in Ilkley and Neil Shaw in Bradford, LCF Law's family team has been kept busy of late advising owner-managed businesses on the impact of divorce and how to protect against claims from spouses (particularly those affected by Covid-19). The firm specialises in the representation of Asian families regarding complex family arrangements and asset ownership as well as ex-pats involved in Spanish divorce proceedings. The broad offering also covers pre/post-nuptials and cohabitation agreements. Harjit Rait was promoted to the partnership in 2020.
Testimonials
The team is led by the wonderful Rachel Spencer Robb, who combines business acumen and all the key skills of the best family lawyers to expand the team beyond its original base in Ilkley into Harrogate and Leeds offering their bespoke service to the wider Yorkshire client base and beyond. The team's approach is refreshingly solution-driven. Rachel and her team take a pragmatic, collaborative and sensible approach to their dealings with both clients and opponents.'
'The greatest compliment I can give Rachel Spencer Robb is that I would recommend her to others. There are very few in the region about whom I could say that. She brings a superb common sense and a commercial view to her cases together with a quick grasp of the important issues. She does not get sidetracked by the small points, which serves her clients extremely well, and focuses on achieving a cost effective and fair outcome. Her interpersonal skills are top drawer which combined with a deep knowledge of the law makes her a very classy operator.'
Call Us Now
Our solicitors are ready to help you. Click on Contact Us, use the Contact form above, or send a message direct to one of the team working in this area from their business cards below.