Family and Matrimonial Law
Relationships are complex. Couples today can be married, in a civil partnership, a same sex relationship or just living together. Partners can come from different countries or religions with different views, laws, beliefs and behaviours. Often partners come from a previous relationship with associated assets and responsibilities or they already have assets of their own such as property or a business that they bring into a new relationship.
A couple may be starting a family or, if a relationship is breaking down, they may be trying to work out how best to care for any children involved. Financial matters will always be involved - whether it is agreeing how things will operate before or during the relationship or what will happen in the event of the relationship falling apart. Cohabitation agreements and pre- and post-nuptial agreements are becoming increasingly common and relevant. The law is becoming more and more complex in response to these changes and the complexities of life today. And more and more couples are looking today to take steps to manage the different aspects of their relationship in the event of a possible breakdown.
So, whether in the early, formative stages of a relationship or trying to manage your way through a relationship breakdown, it is essential to have quality legal advice and professional and sensitive support at every stage.
LCF's Family Law solicitors approach every client with sensitivity and understanding. We are here to help with the good things in life; for example, civil partnerships and same sex marriages. But we are also here to support you when difficulties arise, helping you through separation, divorce and with issues that arise with children
We work hard to help you find solutions without resorting to the courts; but when things do escalate and end up in the courts, we fight hard to ensure you receive the outcome you are seeking. We listen sympathetically, and we explain your options and the likely costs involved clearly.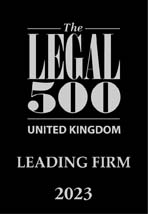 Legal Directory LEGAL 500 (2023 Edition) has this to say about our Family Law and Matrimonial Team
The 'practical and solution-focused' family team at LCF Law is headed by the 'excellent' Rachel Spencer Robb. The team advises on high-value matrimonial financial disputes; advising owner managed businesses and individuals on the implications of divorce or separation. In addition, it handles complex custodial children's matters in relation. Harjit Rait is another key member of the team.
Testimonials
'At all times they were extremely professional, well organised and efficient.'
'With LCF Law, I really felt I was in safe hands and that I was getting the best legal help at all stages in my divorce. They were also very understanding and sensitive with regards to my legal needs and personal needs.'
'Anyone I spoke to at the firm was very professional. From the solicitors to their assistants, to people in the billing department, to receptionists. I needed a solicitor that understood my family dynamics, and that's what I got.'
'I would advise LCF to my friends and family, or to anyone who wants a professional legal firm that tailors their legal service to you as an individual.'
'Harjit Rait was my legal representative for my divorce and she is a genuine and lovely lady, who cared about my health and mental well-being, obviously she is also a very professional and excellent legal representative.'
'Practical and solution-focused. Very experienced team and good to deal with'
'Have been on the other side of Rachel Spencer Robb on several occasions. She battles hard for her client, always with an eye to finding solutions. She is always open to proposals and is firm but fair.'
'Rachel Spencer Robb has recently been joined by Rachel Baul. Both are excellent lawyers who are pragmatic and commercially aware.'
Call Us Now
Our solicitors are ready to help you. Click on Contact Us, use the Contact form above, or send a message direct to one of the team working in this area from their business cards below.