Wills, trusts and probate disputes
Let's start with a true Dickensian tale. We all know that A Christmas Carol is one of the great works of English literature and that Charles Dickens must have surely made a fortune out of it? Well actually, the novel turned into something of a financial disaster for the author.
Dickens wrote the book in the autumn of 1843 (trying to catch the Christmas market even back then) and it was, indeed, a great success, selling many copies over the Christmas period. It came as a shock to Dickens, therefore, when a publishing company released a virtually identical novel called A Christmas Ghost Story in January 1844. They had clearly ripped off his book. Dickens immediately instructed his solicitors to take the other publishers to court.
He made two basic errors, however. First, because the publishers criticised his writing style in their defence, he let what should have been a business matter become a matter of principle. Second, before launching into court action he did not consider whether his opponents were actually worth suing.
Dickens clearly had a strong case and the publishers quickly settled with him, agreeing to pay damages and his legal costs. There was, however, a Dickensian twist to the tale. The publishers promptly declared themselves bankrupt and Dickens never actually received a penny from them. His efforts had landed him with a legal bill which at today's values was more than £70,000.
It is a salutary lesson about the complications of litigation which is still relevant today. That is why it is important to speak to LCF Law as soon as you think you might be involved in a dispute. This applies to wills, trusts and probate disputes just as much as any other type of litigation.
What are wills, trusts and probate disputes?
Wills, trusts and probate disputes are matters where people fall out about estates, wills or the way in which trusts are run. The most common categories are:
Challenging the validity of a will or part of it. There are limited grounds upon which a will can be challenged. Examples are where a will has not been correctly signed; the person making it did not have the capacity to understand it; or the person was being unduly influenced by someone else. Challenging a will is not straightforward; and simply thinking a will 'isn't right' or 'it wouldn't be what they wanted' is not enough grounds to contest a will. It is also important to think about what would happen if the will was invalid. Would you be any better off?
At LCF Law we are experts in advising you on whether you have grounds to contest a will and whether it is worth your while to do so.
Claims against estates. In certain limited circumstances some relatives and dependants of someone who has died can make a claim for provision from an estate if they have not been provided for in the will. Their rights are set out in the Inheritance (Provision for Family and Dependants) Act 1975. We have years of experience of advising potential claimants, executors and other beneficiaries on whether there might be a claim worth pursuing. If you are thinking of making a claim against an estate, it is important that you speak to us straight away. There are strict and very short time limits and if you do not act quickly you may be too late.
Broken promises. It can sometimes be possible to make a claim against an estate if you have been promised something and the promise has not been fulfilled. In particular, unfulfilled promises can sometimes amount to an enforceable contract; there is also a legal principle called estoppel, which says that if someone has been promised something and acts to their detriment in reliance on the promise, the promise can become binding. If you have not been left something you were expecting, we can advise you on whether these principles might apply.
Problem executors. The executors are the people who are given the responsibility under a will of dealing with the estate. The beneficiaries may be unhappy with the way they do their job. For example, they may think the estate is taking too long or that the executors are favouring some beneficiaries. We have considerable experience of advising both beneficiaries and executors about such concerns.
Guidance for executors. Equally, executors can sometimes run into problems in carrying out their duties, such as interpreting the will or dealing with conflicting interests of the beneficiaries. As a last resort it can sometimes be advisable to ask the court to tell the executors what to do and we can help executors with the relevant court application.
Trust disputes. Many of the points mentioned above in relation to beneficiaries and executors of estates apply equally to trusts: beneficiaries may be unhappy with the handling of the trust by the trustees or the trustees might need the guidance of the court to carry out their duties. Another common situation is where beneficiaries are unhappy with the way a trust fund has been invested and do not think the trustees have followed their legal duties.
Will I have to go to court?
Not necessarily. One of Dickens' problems was that he didn't see the wider picture. We have years of experience of dealing with matters similar to these and this enables us to take a step back and consider all the factors involved. We understand that for the majority of clients it is about peace of mind and we will not encourage you to go to court if it is not in your best interests or what you really need to do.
I just want the truth
For example, clients sometimes come to us to say they want to challenge a will when in reality they simply want to understand what has happened. If a will comes as a surprise they might simply want to know what was in the mind of their relative. Our job, therefore, may be to advise our client on their legal rights to obtain information.
Mediation and negotiation
Another aspect of seeing the wider picture is recognising that people often don't want to go to court. This can be particularly true of probate disputes where the opponents can often be other members of the family. It can be far better (and also more cost-effective) to reach an agreement by way of mediation and negotiation. Mediation is a process where an independent expert tries to help the parties involved to reach an agreement. In fact it can sometimes be required, under certain rules, before any court action can happen.
There are various potential benefits, including lower costs and the fact that a dispute that goes to court has a 'winner' and a 'loser' and this can result in bad feelings within families that can endure over generations.
We are experts in using trust and probate law to construct arguments that are strong enough to bring the other party to the table in order to seek a negotiated dispute settlement.
But if all else fails
If all else fails, then our Litigation Department, in particular partner Ragan Montgomery, is widely recognised for their expertise in wills, trusts and probate litigation. Regardless of whether the matter does end up in court, Ragan and her colleagues will be involved from the outset to make sure that anything that is done along the way puts you in the best possible position in the event that you do have to go to court.
Avoiding disputes in the first place
Another major advantage of our many years of experience of wills, trusts and probate disputes is that we know in advance what might go wrong. When helping you with your affairs or making your will we can advise if anything you are intending to do might cause problems further down the line and advise you how to avoid this. This can be as simple as talking through your intentions with your family to avoid any surprises later on.
LCF's personal lawyers act as your 'trusted advisors'. In any dispute you can be confident of our support and in our knowledge. We will support you every step of the way and will always look for the most cost-effective resolution for you whilst protecting your position; and we will always be realistic and honest with you about any likely outcomes.
We take time to listen and really understand your situation. We are by your side to provide sensitive support and quality advice, whatever the circumstances.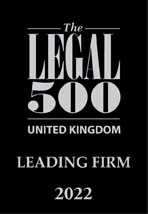 Legal Directory LEGAL 500 (2022 Edition) has this to say about our Contentious Trusts and Probate Team
At Bradford's LCF Law, the contentious trusts and probate team is led by 'highly informed' ACTAPS member Ragan Montgomery. Handling disputes that arise between trustees and administrators, the offering also covers validity claims, capacity issues, Inheritance Act matters and the removal of executors. In addition, the firm is known for its work in wills construction, negligence and its strong track record at the Court of Protection. Notably, the practice is also adept at navigating 'novel' legal questions relating to 'disappointed' beneficiaries and 'failed gifts'.
Testimonials
LCF Law's contentious probate team is a small but dedicated team, headed by Ragan Montgomery. All team members are courteous and professional on even the smallest query.'
'Ragan Montgomery is particularly strong on both the areas of trusts and contentious probate. She is also a member of Association of Contentious Trust and Probate Specialists as well as a member of Society of Trust and Estate Practitioners which gives the added reassurance of recognised expertise.'
'I have used this practice for personal domestic matters over 40 years in its present or previous guises. Partners and other staff are highly professional, offer a readily accessible personal service, and 'know their stuff'. '
'Ragan Montgomery adopts a highly informed and common sense approach in dealing with difficult people. Readily available with excellent support. Considers alternative approaches and takes on board my thoughts before identifying the next steps.'
'High degree of understanding, compassion and flexibility. Billing was efficient with flexible approach to payments and billing. What makes this practice unique is the humanity and care towards clients.'
'A well trained team by Ragan Montgomery. She is sensible and will always protect her clients, but won't take silly points in letters which helps everyone to get the job done. She inspires her juniors who are loyal to her and the firm. They have done well during the pandemic and have embraced remote working and the virtual world. Very good value for money.'
'Ragan Montgomery is impressive and has a loyal junior team behind her who are developing and coming on with their skillset. She is an asset to the firm and has a good local profile.'
Call Us Now
Our solicitors are ready to help you. Click on Contact Us, use the Contact form above, or send a message direct to one of the team working in this area from their business cards below.