Commercial Agent Disputes
A manufacturer or supplier (known as the 'principal') may appoint an agent or a distributor for a number of reasons including: to outsource the sales process; to take advantage of the agent's or distributor's market position and knowledge; or to enter new markets. It is often the case, however, that insufficient thought is given to the exact nature of the relationship; and, in particular, whether the relationship is one of agency or of distributorship?

Using agents and distributors
The relationships of agency and distributorship are fundamentally different. An agent acts on behalf of another person (the principal) and can create a contract between the principal and the customer. The agent, however, is not usually a party to the contract between the principal and the end customer. As such, the principal's goods are sold directly to the end customer by the principal (although the contract will have been procured for the principal by the agent).
A distributor, on the other hand, is an independent trader who buys products from one party (the supplier) and sells them on its own account to its own customers. In doing so, the supplier contracts with the distributor to supply it with goods; the distributor then, in due course, seeks to contract directly with a customer to sell them the goods.
A supplier looking to expand into new markets may seek to do so by appointing agents or distributors. One of the advantages of appointing an agent or agents is the fact that the supplier (the principal party) retains more control over the sale. They can control the price, who they sell to, and the terms of sale, because the end customer is contracting directly with the supplier/principal. The agent, however, may benefit from the provisions of the Commercial Agents (Council Directive) Regulations 1993, which give them certain rights including, in many circumstances, the right to an indemnity or compensation payment on termination of the agency relationship.
By contrast, distributors will sell products purchased from the supplier on the distributor's own terms and at their own prices. The supplier loses the ability to exercise a higher level of control, but equally the distributor assumes the risk of being unable to sell on the stock that it has purchased from the supplier. Furthermore, UK distributors cannot benefit from the rights to compensation or indemnity payments at the end of the relationship that commercial agents benefit from under the Commercial Agents Regulations.
From the outset, therefore, it is important to establish the correct commercial arrangements and agree terms so that both sides have a clear understanding of what is expected of them.
Having a written agreement or contract covering all the key terms will reduce the likelihood of misunderstandings and disputes but all too often this vitally important piece of set up work is either neglected or not done with sufficient rigour.
Disputes can arise over a whole range of issues and for a whole range of reasons; and this is particularly so if there is no written agreement or contacts in place; or if they are in place but they have not been considered and produced with sufficient attention to detail and a proper understanding of what is involved.
Disputes frequently arise over any of the following issues or situations:
Whether an agent is an employee or self-employed;
What territory do they cover, and whether they have exclusive rights to that territory;
Which of your products or services they can or can't sell; and do they have exclusivity on certain products or services;
What authority, and how much, do they have to act on your behalf;
Restrictions on their and other agents' or distributors' activities;
The respective responsibilities of each party for promoting and selling your product, and for fulfilling the end customers' orders;
Customer service responsibilities and levels;
Intellectual property rights;
Disclosure of commercially sensitive or commercial information;
Payment terms and methods;
Product returns and refunds;
Commission rates – including how they may or may not vary from product to product or from customer to customer;
How a relationship and/or an agreement can be terminated.
Self-employed agents – an added complexity
Where an agent is self-employed it can get even more complicated as the principal also needs to take into account their obligation to notify them of any expected shortfall in their earnings; the rules regarding termination of the agreement; and the situation with regard to compensation payments. Be aware that even if an individual is self-employed, under UK and European law they have certain rights. In particular, you may find that you have in effect guaranteed them a certain level of earnings and that you cannot terminate the relationship without paying compensation in some form or other.
If, however, you exert too much control over an agent, you may find you inadvertently create an employment relationship with them; with the various obligations that it entails such as tax and insurance responsibilities.
Also, be aware that if an agent exceeds their authority, and you go along with it – for example they arrange a sale without authority and you agree to fulfil the sale contract – you may have effectively given the agent authority to act in that way in future and unknowingly set a precedent that could cause issues subsequently.
If an agent is acting within the authority you have given them, then you are bound by the agent's actions. For example, if the agent has been given the right to negotiate sales on your behalf, then you are obliged to fulfil the contracts they negotiate.
You may also be liable for some of your agent's actions. If they injure someone or damage someone's property or they make misleading claims about your product to secure a sale then you may be liable. It may be possible, of course, to bring a claim against your agent for breaching their agency agreement if such liability arises. The law, however, regarding your liability for your agent's wrongful acts is complex. Legal advice should always be sought.
If you fail to fulfil your obligations towards your agent, they will have the right to terminate the agreement. They may also be able to sue you for breach of contract and claim damages for any losses they have suffered. And if an agent loses sales because you cannot fulfil them, you might still have to pay them commission.
For self-employed agents, under UK and European law you are required to notify the agent if you anticipate sales being lower than the agent could reasonably expect for whatever reason. Failure to do so could make you liable to cover any shortfall in the agent's income.
For distributors there are additional and different responsibilities and circumstances to consider as there is, in effect, a handover of responsibilities and accountabilities to them as they assume ownership of the product. Any agreements should clearly set out the terms of trade, including who will be responsible for transport and insurance and where deliveries will be made. The terms should include the point at which the distributor will assume ownership of the products. It is also prudent to be clear on who has what responsibilities where products need to be returned. If goods are faulty, for example, then the principal will have certain responsibilities. However if they are damaged during supply to the customer from the distributor then the responsibility usually lies with the distributor.
Also any distribution agreement should deal with how the distributor's remaining stock will be handled in the event of termination of the agreement: for example, will they be allowed to continue selling it for a specified time, or is the principal obliged to buy it back from the distributor.
Terminating agreements
From the above overview it is easy to see that disputes can and do arise for a wide range of reasons. Unsurprisingly many disputes arise when an agreement or arrangement is, or needs to be, terminated by one side or the other. If you want to terminate an agreement with a self-employed agent you must give a minimum notice period: one month in the first year; two months in the second year; and three months thereafter. The notice period can be longer if agreed, but an agent cannot be required to give more notice than the principal.
Most termination agreements – where the principal is seeking to end the relationship – will include arrangements for either indemnity or compensation or indemnity payments.
For a compensation agreement, you pay an amount reflecting the value of what the agent has done and their loss of future earnings – for example, commissions on future sales to customers the agent has introduced to you.
For an indemnity agreement you pay them an amount reflecting the value of the work the agent has done in building up your sales – for example, the work they have done to identify customers and build relationships with them.
A successful agent, therefore, may be entitled to significant compensation, while an unsuccessful agent or an agent acting on behalf of a business that has ceased active trading may be entitled to very little – or nothing at all in certain circumstances.
Self-employed agents are legally entitled to either indemnity or compensation arrangements. If an indemnity is agreed, it can be limited to one year's average earnings, but this does not rule out the possibility of the agent claiming compensation as well.
How we can help you
We have extensive experience in acting in commercial agent disputes relating to a wide range of issues and disputes including all the situations detailed in the previous section. This includes disputes over:
Performance/breach of contract
Termination of agency agreements
Claims for indemnity and compensation under the Commercial Agents Regulations
Non-disclosure of accurate sales figures or other information
Why Clients Choose Us
LCF Law's Disputes Team understands the value which commercial agency arrangements can bring to both principals and agents. This, combined with our all-encompassing knowledge of agency law, enables us to advise on effective solutions to all manner of agency disputes.
Our lawyers are experienced in advising agents and principals on all aspects of the Commercial Agents Regulations and we have advised a number of PLCs on agency-related issues, including a programme which resulted in the termination of several hundred agency agreements.

Every dispute has its own particular dynamics and circumstances. Accordingly we offer a free initial consultation – without any obligation on your part – to discuss your situation, understand what is involved and work out how best to advise and support you. This enables us to give you an idea of what may be involved; and, if possible an indication of what may be involved from a cost point of view. In every situation our aim is to get to a viable and commercial outcome for our client as cost-effectively as possible, taking into account all the risks and variables involved.
We believe it is important to be as open and upfront as possible about the likely charges and costs involved in all aspects of our advisory work. In most cases we charge at an hourly rate. We will, however, always aim to give you a good idea of what we think may be involved based on our extensive experience and knowledge of your particular circumstances.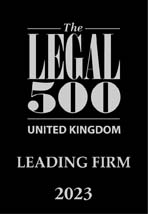 The Legal Directory LEGAL 500 (2023 Edition) has this to say about our dynamic Disputes Team:
'A cohesive and highly effective team. First class litigators.'
'Charles Abraham combines excellent technical skills with an ability to see the bigger picture and advance his client's case accordingly. Excellent at bringing out the best in the teams he is working with.'
'The commercial litigation team at LCF provide a clear and focused analysis of the problem, cutting through apparent complications to produce a range of practical solutions. Priority is given to solutions that are cost conscientious and expedient from a business perspective.'
'The stand out quality of the individuals we worked with was the desire to find simple solutions to problems that others are trying to make unnecessarily complex.'
Call Us Now
Our solicitors are ready to help you. Click on Contact Us, use the Contact form above, or send a message direct to one of the team working in this area from their business cards below.