Roger Raper is an Partner in the Disputes Team. Legal 500 describes Roger as "Excellent Litigator" and ranks him as a "rising star"
Roger advises individuals and companies on a wide range of commercial disputes including breach of contract claims, civil fraud claims, shareholder disputes and trading relationships. He has a wealth of experience of acting for clients in the High Court, Court of Appeal and County Courts.
Matters with which Roger has been involved:
Succeeding at trial for a Claimant in a multi track claim for breach of contract in respect of the supply of electrical components. The case involved an assessment of jurisdictional issues and the defence of a £2million counter claim;
Advising a company in the recovery of funds that had been misappropriated by a former director;
Successfully defending a breach of warranty claim brought against the sellers of a dental practice;
Defending proceedings brought against a former director in the High Court for alleged breaches of his director's duties.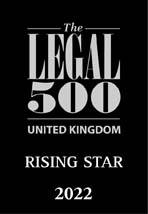 Legal Directory LEGAL 500 has this to say about Roger Raper
'Roger Raper: Excellent litigator who clearly sees the key issues and is very easy to work with.'
'Associate Roger Raper is outstanding, sharp, responsive, and full of initiative. In particular, he is very helpful in the lead-up to trials when the pressure is intense and provided real assistance as a sounding board for ideas and tactics. He also reads matters well and has mastery of correspondence with opponents, especially the timing and pitch of settlement offers. He also has great rapport with the client.'
'Associate Roger Raper impresses with his command of detail.'