Employment Contracts
There are plenty of businesses that simply don't have contracts of employment in place for their staff and think nothing of it. However, employers are supposed to issue employees with contracts by their first day of employment and failure to issue a contract can:
Mean that employees don't understand their rights or obligations
Make it harder to argue that an employee has behaved in an unacceptable way
Result in a tribunal awarding either two or four weeks' pay to an employee (provided they bring a successful claim for something else).
The law sets out certain requirements for what needs to be included in a contract of employment which include:
The name of the employer and employee
Job title
The date employment began
If different (for example if employment transferred from another employer) the date the original employment began
Salary and when it is paid
Details of benefits
Details of hours of work including normal working hours, days of the week, and whether the hours may be variable
Holiday entitlement including entitlement to pay for unused holidays if employment terminates
Terms and conditions relating to sickness absence and sick pay
Terms and conditions relating to other paid leave
Pension entitlement
Length of notice that the employee and employer need to give one another in order to terminate employment (it's worth noting that the law also sets out minimum periods which apply)
When the employment is due to end if it is a fixed term
Any probationary period
Whether a collective agreement (that's an agreement with a trade union) affects the contract
Details of whether the employee will be required to work outside the UK for a continuous period of more than a month
Details of training requirements and who is responsible for any associated costs
Details of who a grievance can be raised with (the employer should also have a grievance procedure but it is preferable to have that in a separate document)
Details of who the employee can appeal to if they are unhappy with the outcome of a disciplinary hearing (again the employer should also have a disciplinary procedure but it is preferable to have that in a separate document)
What else could be included?
From the employer's perspective it is always useful to have as much flexibility as possible. On that basis it can be helpful to include clauses stating that the employee can be required to work additional hours or be asked to carry out work outside of their normal work. This has to be phrased carefully, and it can become harder to rely upon such clauses the longer an employee works for a business without the clauses being used.
Depending on the industry the business is in, the type of work the employee carries out, and/or their seniority, it can also be helpful to have:
Intellectual property clauses – stating that if the employee creates a trademark or something that can be copyrighted or patented, it will belong to the employer
Confidentiality clauses – setting out that the employee won't disclose confidential information to others, even after their employment ends
Restrictive covenants – which are clauses that aim to prevent the employee from competing with the company for a period of time after their employment ends. There are numerous different types of restrictive covenant but the main ones are:

Non-compete clauses – aiming to prevent the employee from competing with their former employer within a certain geographical area
Non-solicit clauses – aiming to prevent the employee from seeking work from a client/customer who they dealt with whilst working for their former employer
Non-deal clauses – aiming to prevent the employee from working with a client/customer who they dealt with whilst working for their former employer
Restrictive covenants can be hard to enforce. In order for them to be enforceable they must do no more than is reasonable to protect the employer's business, which means it's important to draft bespoke clauses which are suitable for the employee in question.
Is everyone who works for me an employee?
Not everyone who works for a business is an employee. Some people will be self-employed contractors who don't require a contract of employment. However, it is still often worth having a contract with those people confirming the terms under which they are working and the fact that they are not employees, as there is always a risk that they later claim that they were employees and try to bring employment law related claims. Whilst a contract won't stop them from bringing claims it will provide evidence of what was agreed. It can also include clauses stating that the individual will indemnify the business against any costs it incurs if it has to defend an employment tribunal claim, and can even state that they will reimburse any compensation that is awarded.
In addition to self-employed people and employees there are people who fall somewhere between the two, known as workers. Workers are entitled to many (but not all) of the same rights that employees receive, including a contract setting out the terms on which they work.
When drafting contracts of employment, businesses often want to include 'standard' restrictive covenants in order to protect that business should an employee decide to leave. Unfortunately however, when it comes to restrictive covenants, if you want the best chance of them being enforced by the courts, there is no 'one size fits all' approach.
Whilst there are some covenants which are rarely enforced – such as blanket non-compete clauses – there are many others where there is a myriad of case law where seemingly identically restrictions are enforced in some cases, and not in others. So what is the reason for this? Why can one company justify a restriction of, say, 12 months, and another might not be able to enforce a restriction for only six months? What is the magic formula when it comes to drafting and enforcing restrictions?
Restrictive covenants and reasonableness
The starting position with restrictive covenants is that they will be unenforceable as a restraint of trade unless they go no further than is reasonable to protect the legitimate interests of the employer. The employer will need to demonstrate that they have such an interest to protect and that the restrictions go no further than is reasonable.
The reasonableness of the restrictions will be considered in light of the circumstances which existed at the time at which the restrictions were entered into. This means, for example, that if a contract is entered into by a junior employee, their reasonableness will be considered in light of what was reasonable for a junior employee; even if that particular employee is a company director by the time the restrictions are being considered. This illustrates just how important it is to revisit restrictions from time to time in order to maximise the chances of them being enforceable.
The legitimate interests which restrictions are designed to protect are:
Trade connections (with customers, clients or suppliers) and, more generally, goodwill.
Trade secrets and other confidential information.
Stability of the workforce.
It is not sufficient to simply want to prevent competition – rather the point is to prevent unfair competition which may arise if the above interests are not properly protected.
It should also be noted that as an employer, if you recruit a new member of staff who is subject to restrictions in their contract with their old employer, and you knowingly 'induce' that new member of staff to act in breach of those restrictions, then you may equally be liable for any such breach. It is always useful, therefore, to ensure that you obtain a copy of their old contract – or at least ask the question – to ensure that you know if they are subject to any restrictions.
What to consider when drafting restrictive covenants
The important things to consider when drafting covenants, if you want to maximise the chances of them being enforced, are as follows:
Consider each employee individually:

What is it that you are trying to protect in respect of that individual?
What is the minimum period for which you need protection?
Why do you need that length of time?
Could you achieve the protection you need by some other less restrictive means?

Make a note of your considerations and the reasons why you have determined that the restriction is necessary, including the time for which it will apply.
Are the restrictions clearly drafted so that they can be easily understood and it is clear what the employee can/cannot do? In addition to ensuring that the employee understands them – and so is able to adhere to them – this will also increase their chances of being enforced as any ambiguity is more likely to lead to the courts refusing to uphold the restrictions.
Do you need to offer some 'consideration' in return for the employee agreeing to the restrictions? This will not normally be necessary where the restrictions are included in a contract for a new employee or for an existing employee who has accepted a new role/ promotion; but if you are simply amending restrictions for existing staff, you are likely to need to offer something in return for them agreeing to the restrictions, or you risk them being unenforceable.
Enforcing restrictions
When it comes to enforcing restrictions, employers and employees should be under no illusion that this can be a very time consuming and expensive process. It is important that any evidence of any alleged breach is gathered quickly and that legal advice is sought at an early stage. Often, it may be possible to dissuade an ex-employee from acting in breach of their restrictions by reminding them that they exist and what they mean. However, if this is not possible, it is important to act quickly to minimise any damage caused, and to maximise the chances of the restrictions being enforced.
In any case where an employer considers that restrictions have been breached, or where an individual has been threatened with legal proceedings as a result of their alleged breach, we would always recommend seeking prompt specialist legal advice.
Common issues with restrictive covenants
The most common issues we see are where employers rely on 'one-size-fits-all' restrictions, regardless of the seniority or position of staff. Whilst this may sometimes be appropriate, it often leads to more junior staff having overly prohibitive restrictions which are too far reaching to be enforced; or in more senior staff having restrictions which are enforceable, but which do not provide the necessary level of protection.
It is always important, therefore, to consider restrictions, if not on a case by case basis, then at least for the relevant position/ seniority level of the role. Doing so can help to ensure that the restrictions achieve the required balance of not being too wide to be unenforceable, whilst at the same time being wide enough to offer the necessary protections.
The other area where we often see issues arising is where new restrictions are introduced and no consideration is given for them at the time of introduction. Even where employees apparently agree to the new restrictions, there is a risk that they will later be able to successfully argue that they are not enforceable due to a lack of consideration having been provided.
Our team has extensive experience of drafting contracts of employment as well as contracts for workers and people who are self-employed. We can help you draft bespoke contracts that are suitable for your staff and help you to protect your business both whilst people work for you and after they leave.
With regard to Restrictive Covenants, there are two main areas where the Employment Team at LCF Law can help:
Drafting restrictions and advising on their implementation in order to maximise the chances of enforceability; and
Preliminary advice and assistance if you are concerned that an employee may be about to act, or may already have acted, in breach of their restrictions.
If proceedings have already been lodged against you, whether as employee or employer (for inducing a breach of contract where you are aware that a new recruit is subject to restrictions from their previous employer), we would normally recommend involving our colleagues who deal with High Court litigation. However, we are always happy to provide initial advice as required.
Why Clients Choose Us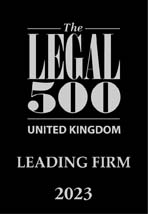 Legal Directory LEGAL 500 (2023 Edition) has this to say about our Employment Law Team
LCF Law predominantly advises employers at SMEs and senior executive employees. The group has particular expertise in advising on restrictive covenants and team moves as well as employment related GDPR documentation. Senior associate James Austin is 'fantastic' and conducts his own advocacy in the employment tribunal. Former practice head Liz Henry has moved into a consultant role.
Call Us Now
Our solicitors are ready to help you. Click on Contact Us, use the Contact form above, or send a message direct to one of the team working in this area from their business cards below.
Partner
Corporate - Employment
Consultant
Corporate - Employment
Meet the team