James Austin is a Partner in the Employment law team. He qualified as a solicitor in 2002 and has specialised in employment law since then.
James advises clients on all aspects of employment law including how to deal with redundancy, disciplinary, performance, grievance and TUPE issues. He has also successfully represented clients bringing/defending claims in the Employment Tribunal involving allegations including unfair dismissal, pregnancy/sex/disability/race/age discrimination and whistleblowing. James advises business of all sizes from owner managed to Plcs.
He has experience of most sectors but has particular expertise in the manufacturing, healthcare, schools and charities sectors. He also advises senior executives on termination packages.
James' clients appreciate his knowledge and expertise:
"James recently defended a spurious tribunal claim by a former employee for us. He assisted us from the receipt of the claim form to carrying out the advocacy at the Tribunal. I'm pleased to say not only did we win but the ex-employee was also ordered to repay costs we had incurred in defending the claim, which I understand is unusual in tribunal claims. We highly recommended him." – The Glen Nursing Home.
James is also a lecturer at Leeds University, teaches future solicitors at the University of Law and provides training for HR professionals at various colleges.
Matters in which James Austin has advised:
James has experience of dealing with trade unions including advising employers who are being pressured by a trade union to recognise it for collective bargaining purposes.
James recently advised an employer on a restructure which involved changing the roles of over half of the workforce. As well as providing advice on the legal aspects of the reorganisation James helped the client to understand the soft HR issues, for example, selling the new roles to the employees in order to make the process seem less daunting to the staff and result in a successful outcome.
James advised a large client on how to close numerous branches and move staff to either work from home or to a hybrid working system. In addition to changing the way the employees worked James and the client looked at practical considerations including health and safety implications and ensuring the client was able to require the employees to attend the office when necessary.
James has helped employers successfully defend numerous tribunal claims. These include a whistleblowing claim against a semi-public administrative body, where the claimant decided to withdraw his claim after James had cross examined him.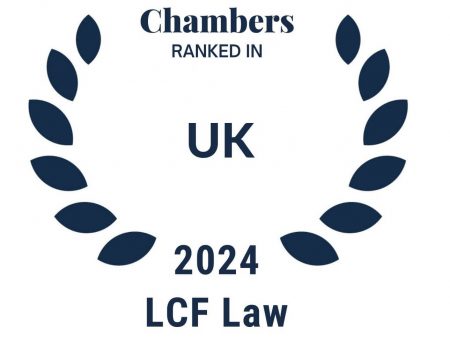 Chambers and Partners (2024 edition)
James Austin of LCF Law in Harrogate supports employers with matters such as TUPE transfers and claims for unfair dismissal, discrimination and whistle-blowing. He has further strength advising senior executives on termination packages.