Intellectual Property & Information Technology
Copyright, Designs & Patents, Trade Marks & Brands
Businesses who develop innovative products and services, and valuable brands, need to protect their investment in innovation, and the goodwill they have developed in their brands, by the use of Intellectual Property (IP) rights.
For businesses in the IT sector, contractual relationships are usually key tools to maximise revenue, limit commercial risk, and protect intellectual assets.
Our specialist team of IP & IT lawyers have  in-depth knowledge and many years of experience in these areas of law, which enables us to quickly identify the relevant commercial and legal issues, and to work with you to achieve your objectives swiftly and cost-effectively.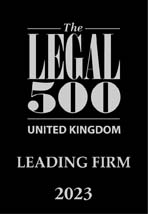 Legal Directory LEGAL 500 (2023 Edition) has this to say about our Intellectual Property Team
Led by James Sarjantson, LCF Law's commercial IP practice acts for owner-managed and technology led-businesses, as well as companies involved in software development and distribution, on the filing of trade marks, contractual agreements and copyright issues.
Testimonials
'The team at LCF are highly competent and trustworthy to deliver the work required.'
'I personally worked with James Sarjantson and continually find him to be extremely competent and knowledgeable, but also very accommodating of our needs and a really great guy to be working with.'
'They listen and make excellent suggestions.'
Call Us Now
Our solicitors are ready to help you. Click on Contact Us, use the Contact form above, or send a message direct to one of the team working in this area from their business cards below.
Head of Commercial & Digital
Commercial & Digital
Solicitor
Commercial & Digital
Meet the team