Intellectual Property & Information Technology
Copyright, Designs & Patents, Trade Marks & Brands
Businesses who develop innovative products and services, and valuable brands, need to protect their investment in innovation, and the goodwill they have developed in their brands, by the use of Intellectual Property (IP) rights.
For businesses in the IT sector, contractual relationships are usually key tools to maximise revenue, limit commercial risk, and protect intellectual assets.
Our specialist team of IP & IT lawyers have  in-depth knowledge and many years of experience in these areas of law, which enables us to quickly identify the relevant commercial and legal issues, and to work with you to achieve your objectives swiftly and cost-effectively.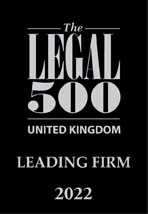 Legal Directory LEGAL 500 (2022 Edition) has this to say about our Intellectual Property Team Team
At LCF Law, the commercial IP team handles contractual matters, trade mark filings, and patent litigation work, and is headed up by James Sarjantson. The group's client list is made up of owner-managed businesses and SMEs operating in the chemicals, machinery and software sectors.
Thomas Taylor joined the department from Needle Partners Limited and is experienced in handling complex disputes for local and regional clients.
Testimonials
'James Sarjantson impressively grasps the problem at hand with record speed, delivering exceptional counsel balanced with an insightful commercial perspective. It's no coincidence we have consistently reverted to James for his advice and viewpoints across a vast range of often challenging and always unusual legal issues since 2016.'
'I believe LCF is the most approachable and helpful firm I've worked with. James Sarjantson has been our key point of contact and is always available, helpful and above all, extremely competent.'
'James Sarjantson is our main point of contact and is a real pleasure to work with. James is an extremely competent solicitor, but always goes beyond our expectations with support and advice beyond what we would normally expect from a legal firm.'
'The team at LCF are always very responsive, pragmatic and commercially minded. They ensure they understand enough about our business to advise us well, but within the financial constraints of a small business.'
'LCF continues to remain proactive, relevant and always accessible. I've yet to find a problem they've not been able to robustly resolve.'
'James Sarjantson – always there when needed, no matter the time or day.'
'James provides exceptional, commercially aware solutions (often at very short notice) on behalf of our blue chip clients.'
Call Us Now
Our solicitors are ready to help you. Click on Contact Us, use the Contact form above, or send a message direct to one of the team working in this area from their business cards below.
Head of Commercial
Commercial Contracts & Intellectual Property
Meet the team