James Sarjantson has over 20 years' experience in providing legal solutions for clients in relation to their selling, trading and commercial arrangements, particularly where they are technology-led. James regularly advises clients on IT & e-commerce contracts, distribution, agency & franchise agreements, supply contracts, data protection (GDPR) and Terms and Conditions of business.
James also supports and advises clients on intellectual property rights: That is, issues around trade marks, designs, copyright, patents, and trade secrets.
James has previously spent time working in-house in the legal department at Matalan Retail Limited, and has a post-graduate diploma in IP Law & Practice from Bristol University. He is ranked as one of the leading advisors in the region for Intellectual Property, in the leading legal directory, the Legal 500.
Most of James' department's work is repeat work from existing clients, many of whom have been clients for many years (or even decades). James' team grows organically with their clients; Their success is therefore inextricably linked with the success of those clients.
Recent instructions include:
Advising a long-standing client, who deliver bespoke software development projects to a range of industries, on various contract negotiations with their customers. IP ownership is often a key issue. In particular, James has recently advised them on IP issues between the divisions of the business (a bespoke software development division on the one hand a new "no/low code" development division on the other) so as to maximise the value of the IP they generate.
Advising a client engaged in ground-breaking and highly confidential R&D in relation to organic light-emitting diodes. The client values James' knowledge and expertise to enable them to maintain the secrecy of their work, while assisting them to work with their partners to develop the product and bring it to market.
Acting for one of the UK's leading multi-specialist, consumer-focused communications and PR consultancies, including (i) general advice on the many and varied IP matters that arise in their work for their own blue-chip client base, and (ii)  advising on various agreements, either with those blue-chip clients, or with the "talent" – i.e. the well-known names who are brought on board to promote the various goods and services.
Acting for a manufacturer and supplier of a naturally-sourced active ingredient for insect repellents during the CV-19 pandemic on a materials transfer agreement with Public Health England (PHE) for the testing and evaluation of their product for its efficacy against CV-19. Despite the urgency of the matter, the client relied on LCF Law to protect its interests during the negotiations and into the final contract with PHE.
Advising a large financial consultancy on the terms of a new online adviser platform, and investment order routing service, provided by a third party. This represented significant financial and commercial risk for our client, and included a licence of the online platform in the context of a heavily regulated environment. The client relied on LCF Law to help them manage that risk in the contractual documentation, which was successfully achieved; The platform is now a key part of the client's growth strategy.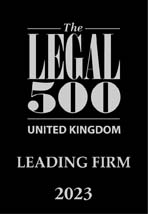 Legal Directory LEGAL 500 (2023 Edition) has this to say about James Sarjantson
Led by James Sarjantson, LCF Law's commercial IP practice acts for owner-managed and technology led-businesses, as well as companies involved in software development and distribution, on the filing of trade marks, contractual agreements and copyright issues.
Testimonials
"We've worked with LCF Law for a number of years – most recently in updating our suite of client contracts. As we grow, our need for more sophisticated and flexible client engagement terms has grown too. James Sarjantson at LCF Law advised us on how best to protect our business, and that of our clients when working together. We'd strongly recommend LCF Law to other businesses"
Rachel Lofthouse - Fox Agency
'The team at LCF are highly competent and trustworthy to deliver the work required.'
'I personally worked with James Sarjantson and continually find him to be extremely competent and knowledgeable, but also very accommodating of our needs and a really great guy to be working with.'
'They listen and make excellent suggestions.'
James's Info-Burst takes you through why Terms and Conditions assist you in business