Andrew Langton joined LCF Law in 2014 to head up our Debt Recovery Team. Recruited from Fieldfisher (formerly Heatons) in Manchester, Andrew has previously worked for and led debt recovery teams at law firms DLA, Hammonds, Drydens and Lupton Fawcett.
Businesses need cash to survive. Andrew and his team apply commercial sense and in-depth knowledge of the commercial debt recovery process to achieve that for clients.
Cash management is the lifeblood of all businesses, and if you are owed money, you will want to recover it quickly. Having Andrew and the LCF Law team on your side will increase your chances of a 100% recovery.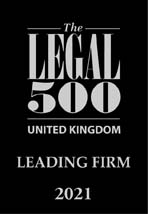 Legal Directory LEGAL 500 (2021 Edition) has this to say about our Debt Recovery Team
LCF Law's corporate recovery department assists a client roster of SMEs and numerous publicly listed businesses with debt collection work. Practice head Andrew Langton provides additional advice on pre and post-collection procedure policies for in-house teams.
Testimonials
"They are always efficient and supportive. They offer sound advice and keep you up to date every step of the way."
"Andrew Langton is our principle source of knowledge and dispute resolution on complex cases, which he handles with a delicate and firm approach."