LCF Law's Latest Business Partnership In God's Own Country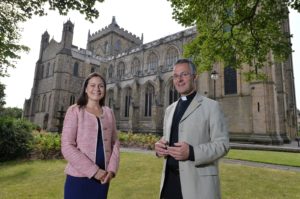 LCF Barber Titleys has become a principal business partner of the iconic North Yorkshire landmark, Ripon Cathedral.
The Ripon Cathedral Development Campaign has invited several key members of the local business community, including energy supplier CNG Ltd of Harrogate and wealth management firm Brewin Dolphin, to support its cause.
Through this prestigious partnership, LCF Barber Titleys will play a role in the preservation and development of the Cathedral which is central to the local community and the heritage of the area.
Clementine Duckett, Corporate law partner at our Harrogate Office , said: "We are delighted to have been offered the opportunity to support the Cathedral and the Very Reverend John Dobson in his development plans for a 21st Century Cathedral. Ripon Cathedral is a beautiful place that is steeped in history and goes to the heart of many in our community.
"Our expanding client base consists of both businesses and private individuals, across North Yorkshire and particularly in Ripon and its surrounding towns and villages. We already support a range of worthy causes and charitable initiatives in the region and forging this new partnership with Ripon Cathedral reinforces our continued commitment to Yorkshire and the community in which our customers do business and our clients and staff reside."
The Very Reverend John Dobson, Dean of Ripon said: "Ripon Cathedral relies upon voluntary support in order to keep the doors open and we're always keen to welcome new volunteers and supporters, to enable this historic place of worship to continue to serve the city of Ripon and the wider area.
"LCF Barber Titleys is a longstanding North Yorkshire business with an excellent reputation in the legal market so we're delighted to welcome the company into this unique partnership. We launched the initiative with the aim of attracting five principal business partners, all from different industries, and we now have three companies on board, which epitomises the generosity of North Yorkshire's business community."