Power of Attorney offers control to business owners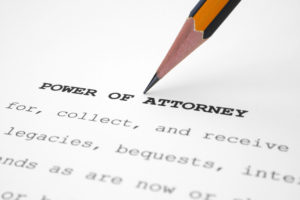 The Covid-19 crisis has prompted many business owners to not only make sure that their personal affairs are in order, but to double check that their power of attorney is still fit for purpose.
A power of attorney is a legal document that allows someone, while they still have full mental capacity, to nominate a trusted person to make financial or health-related decisions on their behalf, in case they lose capacity.
Commonly people appointing an attorney are focused on their personal assets, but it can also be of significant benefit to business owners, partners and shareholders to protect themselves in the same way.
Then, if they suddenly become incapacitated, perhaps due to illness or injury, the nominated attorney can step in to make key decisions and ultimately keep the business running.
Power of attorney for businesses
There are several different types of power of attorney, but a transactional or commercial context, usually requires what's known as an ordinary, or general, power of attorney.
This most commonly enables another person to execute documents on behalf of the donor. The scope of authority conferred to the attorney can be general and wide ranging, although limited powers can also be granted that might relate to a specific matter or area.
Common uses of an ordinary power of attorney include:
Completion meetings - if a party to a commercial transaction cannot be present at the completion meeting, they may execute a power of attorney, so a third party can represent them and sign documents on their behalf.
Giving authority to execute deeds.
Share sales - powers of attorney are frequently used to give buyers of shares the standing to exercise certain rights of ownership before transfer of the shares is completed.
Proxies - a power of attorney is frequently used to appoint a proxy, to act on a donor-shareholder's behalf, to receive notice of and attend company meetings, demand (and vote on) a poll and execute written consents and resolutions.
Reassurance and protection
A common concern with powers of attorney is a lack of control - but it's actually there to protect a person and having it in place is good housekeeping and cost-effective.
They can even be done online, although we would always recommend using a solicitor, especially when it relates to a business, as they are powerful legal documents and need to be done properly.
People also feel more reassured when they consult a solicitor as it helps them understand the process, and by seeking proper legal advice, they have protection if things go wrong.
Here to Help
For further information LCF Law's team can be contacted via telephone, Zoom, FaceTime and WhatsApp, or email Susan Clark, head of LCF Law's Corporate Team at ku.oc1701984069.fcl@1701984069kralc1701984069s1701984069