LCF Law delighted to continue to be a part of the Forward Ladies Awards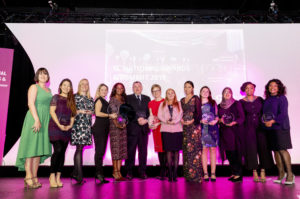 Hosted by acclaimed business journalist and broadcaster Penny Haslam, the prestigious grand final of the Forward Ladies National Awards & Summit 2018 took place at The Royal Armouries in Leeds on Friday 7th December; where outstanding, entrepreneurial female business leaders from across the UK competed in a total of 11 categories - including STEM Rising Star, Young Entrepreneur and Start Up.
LCF Law was one of the sponsors of this high profile event, where women from start-ups to multi-million pound companies, are recognised for their enormous contributions to the economy.
Griselda Togobo, Managing Director at Forward Ladies, said: "The programme to showcase role models and inspirational leadership is in its ninth year and we are once again delighted to highlight the best women-led businesses and male agents of change, championing diversity in their respective regions.
"Whilst we have clearly made progress over the years, little advancement has been made in bringing diversity to leadership roles. By working together: employers, the government, support networks and the women ourselves, we can bridge the gap quicker - achieving diversity is not an option - it is necessary for our competitiveness as a nation.
"Our regional and national finalists are the everyday heroines, trailblazers and role models who have succeeded despite enormous challenges by breaking through barriers."