Home
/
Media Centre
/
Blogs
/
Alderman Barber is happy in his new home as Harrogate law firm's office celebrates anniversary
Alderman Barber is happy in his new home as Harrogate law firm's office celebrates anniversary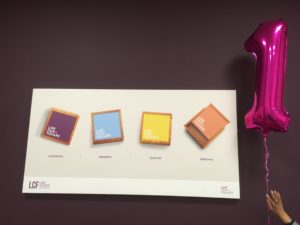 Full service Harrogate law firm LCF Barber Titleys has celebrated the first anniversary of its move to The Exchange office building on Station Parade, above Harrogate Railway Station.
LCF Barber Titleys, which can trace its origins in Harrogate back to 1880, is part of Yorkshire based LCF Law and was previously based on North Park Road. LCF Law merged with Barber Titleys in 2015.
One of the firms founding partners, Francis Barber, served the people of Harrogate not only as lawyer, but as a Councillor and Alderman of the Borough of Harrogate between 1886 and 1928. His portrait moved with the firm and now hangs in the new offices of LCF Barber Titleys.
A team of 25 are based in the 4,000 square foot open plan office, providing specialist advice on every aspect of the law, including property, planning, corporate, residential property, employment law, family law, probate , Wills and Trusts. Over the last two years the Personal Law team has prepared and drafted almost 40 wills for free, in return for a charitable donation to Saint Michael's Hospice.
Partner, Tim Axe, said:
"Since moving to Harrogate's landmark office building on Station Parade, we have enjoyed the new environment and have had great feedback from staff and clients alike as to the new office facilities.
"Our team work with many well-known local businesses, entrepreneurs and families in Harrogate and the surrounding towns, and have recently been involved in the 'Love your High Street' campaign with Stray FM. As we help many retail and restaurant businesses to lease or buy property in the town centre - including The Ivy and Cattlemen's - it's essential that we back our valuable High Street.

Throughout the year we have also advised on many high-profile planning applications and helped a wide range of well-known businesses to re-structure, alongside providing employment, contract and GDPR advice to several hotels in the town."
With other offices in Bradford, Leeds and Ilkley, LCF Barber Titleys is the largest law firm in Harrogate and provides a full range of legal services. Tim added:
"We benefit hugely from having so many talented professionals right here in Harrogate, but we can also tap into the vast expertise of our partners and solicitors from our other three Yorkshire offices. 2019 already looks set to be another exciting year for LCF Barber Titleys, as the firm continues to go from strength to strength and we are looking forward to building on our extensive personal and corporate legal service offering."