Ilkley law firm revs up fundraising activities for local charity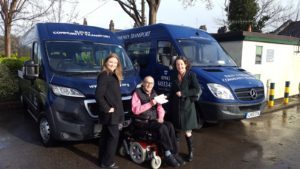 LCF Law's Ilkley office has raised £500 for Ilkley Community Transport which benefits hundreds of people every year by operating a minibus and volunteer car scheme for residents living in the local area.
The money was raised through a variety of sponsorship initiatives as well as donating all the token payments the company receives from local people for swearing oaths and certifying copy documents.
Ilkley Community Transport has been around in various guises since 1977 and operates three fully accessible minibuses which it hires out to community organisations in the LS29 area. Last year alone the buses were hired out 645 times providing 10,618 individual passenger journeys. The charity also provides weekly transport for two luncheon clubs for the elderly and shopping trips from Addingham to Ilkley.
In addition, Ilkley Community Transport has a pool of volunteer drivers who use their own cars to give lifts to people who struggle to use public transport due to age, illness or disability. Last year the charity provided 554 lifts.
Ann Christian, a partner at LCF Law in Ilkley, said:
"Every year our team selects deserving local charities to support and raise money for, doing everything from cake baking through to sponsored events. Plus, instead of charging local people for swearing oaths and certifying copy documents, we invite them to make a donation which they always appreciate.

Ilkley Community Transport has been doing an amazing job for more than 40 years. The charity benefits hundreds of local people of all ages every year, with journeys including short runs around Ilkley through to coastal trips and even holiday transport for people with disabilities. It is a lifeline for many local people, so it's a real delight to make this donation to them."