Ilkley lawyer is 'all shook up' after charity run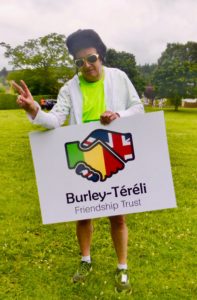 Spectators at Ilkley's half marathon might have been in 'suspicious minds' about the competitor running like a 'hound dog', dressed as Elvis, which turned out to be Ilkley lawyer Neil Shaw,whose outfit helped raise a staggering £5,000 for charity.
Burley Tereli Friendship Trust (BTFT)
Neil ran the inaugural Ilkley half marathon in a team of 11 runners who all raised money for Burley Tereli Friendship Trust (BTFT). The charity was founded by residents in Burley in Wharfedale with support from Channel Four news presenter Jon Snow, who twinned Burley with the village of Tereli, in Mali, West Africa, through his On the Line Millennium project.
BTFT has helped build a school, pharmacy and maternity room in Tereli, as well as funding work to dig wells, dune stabilisation work to preserve land for crops and supplying a motorcycle ambulance to transport locals 25 miles to the nearest hospital. The money raised from Ilkley's half marathon will go towards establishing the first palliative cancer care centre in Mali.
A fantastic event
Neil said: "The first Ilkley half marathon was a fantastic event and Elvis received a brilliant response from both spectators and other runners. We've all been bowled over by the generosity of everyone who has sponsored us, which has pushed our initial £3,000 target to more than £5,000.
"There's very little cancer care of any sort in Mali, and certainly no palliative care, so creating a dedicated cancer centre in the area will make a huge difference to the people of Tereli and many others in the surrounding towns and villages."
The half marathon was organised by the Ilkley and District Round Table and saw approximately 2,000 runners complete a route through Ilkley, Ben Rhydding, Addingham and Crier Hill. Anyone still wanting to sponsor the BTFT team can do so at https://uk.virginmoneygiving.com/giving/ and search for Team BTFT.
---
Neil Shaw is an Partner and Head of our Personal Law Department and is based in Bradford and Ilkley
He has over 25 years' experience in advising people about Wills, Trusts and estate planning.
Neil's wealth of knowledge and understanding in what are sensitive and emotive issues enables him to provide appropriate solutions to client's concerns allowing them to get on with the important things in their lives confident that their affairs are in order.
For further advice on the above topic or any related issue please contact Neil Shaw on 01274 386 992 or ku.oc1701692326.fcl@1701692326wahsn1701692326