LCF makes an Impression with Harrogate recruitment firm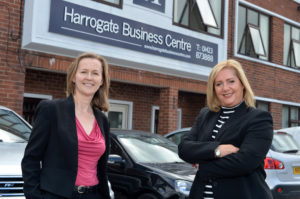 A Harrogate recruitment firm that launched just six months ago is planning to grow its own team following a successful first quarter in business.
Impression Recruitment is run by Debi Ferriday (pictured on the right) and Oliver Berry, two experienced professionals with more than 30 years combined industry experience. Based at the Harrogate Business Centre, the firm plans to recruit between five and ten new staff over the next five years.
Debi instructed LCF Barber Titleys to provide legal advice before launching the business earlier this year.
Debi said: "Having set up and run another recruitment business in Harrogate for nine years, I successfully sold it two years ago. LCF Barber Titleys provided me with guidance throughout the process which was invaluable. When launching Impression Recruitment with Oliver, I didn't hesitate in turning to Susan Clark (pictured on the left) at the law firm, who had previously steered me through the sales and purchase agreement as well as other contractual items, to support us with the launch of our new venture.
"Since setting up we have already expanded into bigger offices at the Harrogate Business Centre and are working with several clients recruiting permanent and contract staff into administration, sales, customer service, reception, PA, secretarial, finance, HR and IT roles. We are delighted to be in a position to be recruiting for our own team within such a short space of time alongside our growing client base."
Partner, and head of the corporate department at LCF Barber Titleys, Susan Clark, said: "Having acted for Debi when she sold Daisy Recruitment, I was really pleased when she got back in touch to talk through starting a new business in Harrogate. We specialise in providing corporate legal advice to businesses operating in almost every sector, and understand how complex and daunting a sale or acquisition can be.
It's our job to protect our clients' interest and help them achieve their goals, and I am confident Debi and Oliver will make a huge success of Impression Recruitment."