LCF Law helps set Brontë sisters tribute in stone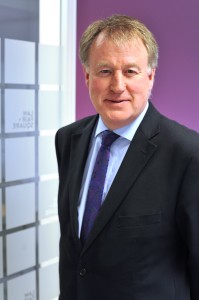 LCF Law has secured the rights for four commemorative stones to be set in the landscape around West Yorkshire to celebrate the work of the Brontë sisters. The firm has also approved all contracts involved with the installations, as part of its pro bono work for the Bradford Literature Festival (BLF).
The firm's managing partner, Simon Stell (pictured right) has also been appointed to the advisory board of the BLF, which will curate and deliver the exciting new project.
The Brontë Stones Project is a unique celebration of the legacy of the famous sisters that will see four new, original works of writing by Kate Bush, Carol Ann Duffy, Jackie Kay and Jeanette Winterson, engraved onto stones in different locations connecting the Brontë sisters' birthplace in Thornton and the Brontë family parsonage at Haworth.
The project will be unveiled at a special event on 7th July at Bradford's historic Midland Hotel with the first guided walk taking place on 8th July.
Simon said: "We are proud to be involved with such a wonderful undertaking that will create an exceptional memorial to the great works of literature produced by the Brontës. My colleagues who specialise in commercial property, and are experts in commercial contracts and intellectual property matters, have worked on the project to ensure that all the legal documents are in place for the launch of the project and its successful delivery. The stones will create a permanent multi-site public art installation in the region."
Bradford Literature Festival director, Syima Aslam, said: "LCF Law has provided invaluable legal advice and guidance to us as we have embarked upon this exciting project to celebrate the work of the Brontë sisters."
Simon added: "The entire team at the BLF have worked tirelessly to support the creation of something very special for local people and visitors to the region to enjoy. People will be able to follow the path that is believed to be the route the sisters themselves often took - giving people the chance to walk in their footsteps for generations to come.The literary responses will no doubt prove to be both inspirational and a long-standing tribute to the written and spoken word and we are thrilled to play a part in their delivery."
BLF, in association with Provident Financial Group, is an international festival based in Bradford, which has grown from an audience of 968 attendees in 2014, to over 50,000 attendees in 2017.
Hailed as one of the most inspirational festivals in the UK, BLF is a key event in the UK's cultural calendar. Over 500 speakers in more than 400 sessions, feature in the fourth edition of BLF which is taking place from 29 June to 8 July 2018.