LCF Law continues building its commercial property division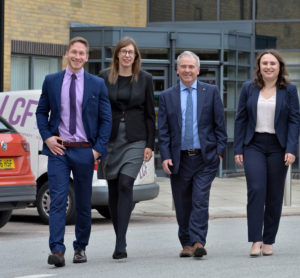 LCF Law has expanded its property team with three new appointments as a direct result of increased business throughout the division.
Licensed conveyancer Cathryn Ford, solicitor Jamie Humpheson and paralegal Lauren Ives join LCF Law's specialist commercial property division, which operates across offices in Leeds, Bradford, Harrogate and Ilkley.
Cathryn, from Wakefield, joins from Gordons. Having worked in the legal industry for 14 years, Cathryn brings a wealth of experience to her role after overseeing commercial transactions, lease renewals and assignments, licenses for alterations and plot sales. She will be based in LCF Law's Leeds office.
Jamie, who is from Harrogate, joins from Emsleys. His commercial property experience includes advising SME's, landlords and tenants, land and property developers, franchisees and private clients. Responsible for drafting and negotiating leases and agreements, as well as dealing with the sale and leasing of property, alongside advising on the right to manage, auction sales and easements. Jamie will be based in the Bradford office.
Lauren Ives, who is from Derbyshire, recently completed her legal qualifications at the University of Law in Leeds having graduated from the University of Kent with a first class LLB (Hons) in 2017.Based in the Bradford office, Lauren will assist the team of 10 property experts.
Head of LCF Law's commercial property department, Paul Anderson, said: "Last year we expanded our department and this raft of new appointments reflects our continued growth and success in the commercial property market. We listen to our clients, agree the right course of action and deliver our legal services within a set timescale and budget, and this straightforward approach has seen us win several key clients over the last quarter.
"Jamie, Cathryn and Lauren all have a specific set of skills that will help us to continue exceeding our client's expectations. All three will be involved with managing commercial property portfolios, advising developers on potential residential and commercial projects, assisting charities and pension funds with property estates or investments, and advising commercial leaseholders and tenants."