Medical supplier gets another injection of funding for MBO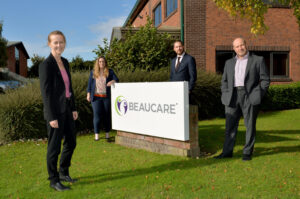 LCF Law's Susan Clark, Beaucare's Heather Mawrey and Joe Storr, and Alastair Morris from Santander.
The final stage of a management buyout (MBO) of Harrogate-based Beaucare Medical, an independent supplier of medical, nursing and hygiene supplies to the care sector, is now complete.
Advised by LCF Law, Beaucare's managing director, Heather Mawrey, and commercial finance director, Joe Storr, first bought into the business in 2017 when original owner, Jonathan Brown, sold his controlling stake. The pair have now bought Brown's remaining shares in the business.
Beaucare Medical has seen an 40% increase in growth over the last three years and also experienced a recent surge in demand for PPE and other associated products due to Covid-19.
The second half of the MBO has been supported by funding from Santander Corporate & Commercial. The bank funded the initial £3m MBO in 2017, which LCF Law also advised the management team on. Freeths acted for seller, Jonathan Brown, and Santander was represented by Gunnercooke.
Heather has played an instrumental role in the development of Beaucare Medical over the last 15 years and Joe joined in 2016, to provide finance director level support to the successful business. Heather said: "We've enjoyed a busy period in the three years since Joe and I initially bought into the business. We're extremely grateful to Jonathan for his continued input, which has created a seamless handover, and we're delighted to complete the final stage of this MBO."
Partner and head of the corporate department at LCF Law, Susan Clark, said: "I have thoroughly enjoyed advising Heather and Joe on the final stage of their MBO and working alongside a number of other Harrogate-based professionals during the deal, including Paul Land from accountancy firm TPL. The MBO will allow the senior management team to continue building on its hard-earned successes."
Santander's relationship director at regional corporate banking, Alastair Morris, said: "Beaucare Medical has supported the care sector for over 25 years and we are proud and delighted to continue to support them as their banking partner. Heather and Joe have done an outstanding job in the last three years despite the various economic and political headwinds. Their continued growth and success means even more care centres across the UK can benefit from the excellent service the team provides."
Established in 1992 by Jonathan Brown, who initially sold incontinence products and used his garage as a warehouse, Beaucare Medical is now one of the largest healthcare and hygiene suppliers to care homes in the UK. The firm has successfully entered the market in both the South West and the South East and has plans to expand further with additional service and distribution centers.
If you would like to learn more about management buyouts (MBOs), or have any other questions about different ways to sell your business please contact Susan Clark on ku.oc1701792369.fcl@1701792369kralc1701792369s1701792369 or call 0113 487 3930
---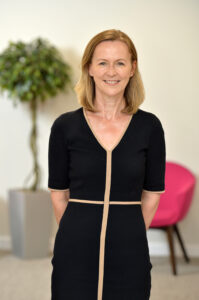 Susan Clark is a Partner and Head of the Corporate Department and is based in Leeds.
Susan specialises in owner/managed businesses and acts on acquisitions or disposals as well as assisting with reorganisation and restructuring for clients. Susan is often called on to get involved with transactions involving complicated share structures or pre sale reorganisations in which she has a particular expertise.
You can contact Susan 0113 487 3930 or email ku.oc1701792369.fcl@1701792369kralc1701792369s1701792369