New Job Support Scheme announced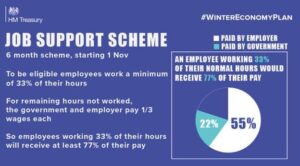 Rishi Sunak has just announced a new Job Support Scheme which will commence from 1 November 2020, following the end of the Coronavirus Job Retention Scheme (CJRS).
He has announced that the scheme has three principles:
The scheme is designed to support 'viable jobs' rather than simply keeping people in roles which no longer exist. Employees will need to work at least one third of their normal hours, for which they will be paid in full. The Government and employers will then top up their pay by paying one third each of their remaining wages, so that employees who work 33% of hours will receive 77% of their normal income.
The support will be available to the businesses which need it most. This means that it will be available to ALL small and medium sized businesses, and to large businesses that can demonstrate a fall in turnover as a result of the pandemic.
The scheme will be open to all businesses, including those who have not previously made use of the CJRS.
The Chancellor has confirmed that the scheme will run for six months, and employers will be able to claim under this scheme as well as the job retention bonus.
We will provide further details as and when they are available.
If anyone requires further advice on this, or any other matter, please do not hesitate to contact a member of the employment team. Call 0113 2384 041
---
This article was written by Gemma Sherbourne. Gemma is a Senior Associate solicitor in our Employment Law department.
Based in our Leeds office Gemma carries out the full range of employment services, including advising on TUPE and restrictive covenants, performance and sickness absence management, redundancy, disciplinary and grievance procedures and other day to day advice.
Gemma conducts her own advocacy in the employment tribunal and regularly provides training for clients on a range of matters.
Find out how Gemma can help you call 0113 2384 041 or email ku.oc1701649576.fcl@1701649576enruo1701649576brehs1701649576g1701649576