Trio of qualifying solicitors offered permanent roles at LCF Law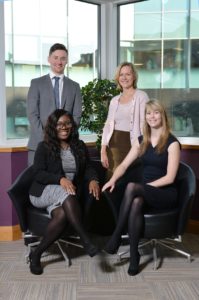 Three trainee solicitors at LCF Law have all successfully qualified and been offered permanent roles by the firm, across its corporate and personal divisions.
Clare Bennett, Patricia Obawole and William Reynolds have all spent the last two years working as trainee solicitors at the firm.
Both Patricia and William are now based in the firm's corporate division in our Leeds Office.
Patricia graduated from Bournemouth University in 2016, before joining LCF Law the following summer.
William graduated from Leeds Beckett University in 2015 and immediately secured a paralegal role at LCF Law, before becoming a trainee solicitor two years later.
Clare is now based in the firm's Bradford office offering a wide range of personal law services including advising on Powers of Attorney, wills and probate. She originally graduated from the University of Exeter before embarking on a course with the University of Law and then joining LCF Law in September 2017.
Susan Clark, who heads up LCF Law's corporate team, said: "Clare, Patricia and William have all enjoyed a very successful two years, working across a range of our departments, and thoroughly deserve to qualify. During this time, they've continually demonstrated their capabilities, and gone above and beyond for clients, so we're delighted to offer them permanent roles and look forward to seeing them embark on the next chapter of their careers with us."
Pictured above standing left to right is William Reynolds and Susan Clark, seated left to right Patrica Obawole and Clare Bennett.