What is #UKLegalHour?
If you've been following us on Twitter for a while, you may have noticed that we tweet lots of legal advice from our free legal library. You may also have noticed we often tweet about #UKLegalHour, like this: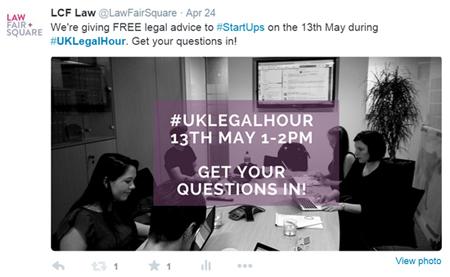 You may be wondering, what are these tweets all about?
Last year we launched #UKLegalHour. A first of its kind, it was created to give you FREE legal advice live on Twitter. Since launching we've answered questions on Employment Law, Personal Law, Wills and Probate and Property Law and our next event will be all about #SME's.
What is a Twitter Chat? In our case a Twitter chat is where Twitter users meet at a pre-agreed time to ask questions about certain legal topics which change from chat-to-chat. You ask the questions and we answer them live on Twitter.
You get great free legal advice without having to leave the office or house. No wasted time, no expensive consultation, just free legal advice. You can even tweet in your PJ's if you want.
Not only do you get your own question answered but you get to see the answers to all the other questions people ask which is also really useful.
Here's our team in action during our Property chat.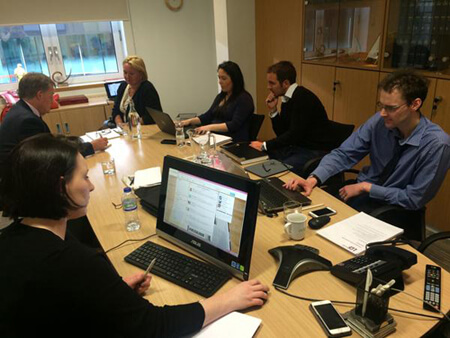 So, how can you participate?
Before the event
1. First of all, make a note of the Twitter chat event in your diary. Our next one is on the 8th July at 1pm.
2. Next, tell your followers you're joining #UKLegalHour and ask them to join in too. Click To Tweet
3. If you want us to tweet you a reminder, let us know and we'll tweet you on the day. Click To Tweet
During the event
1. Grab a cuppa and get seated.
2. Type #UKLegalHour into the Twitter search bar and you'll see people are already tweeting using the hashtag.
3. Ask your question and make sure you include #UKLegalHour so that we get it. Like this

4. We'll get your tweet and get to work on answering it.
5. Then you'll get a tweet from us with a link straight to your personalised answer.
Easy as that.
Bonus Tip - Lots of people participate so it's also a great way to raise awareness of your Twitter account and make new connections. (No spamming of course.)
So far we've enjoyed some great success with #UKLegalHour and we've already answered loads of questions which you can see here. We're doing this to help as many people as possible. You can help us help you by joining in and tweeting your question on the 8th July. You can help us help even more people by telling your followers about #UKLegalHour too!
See you on the 8th July. Looking forward to answering your question. In the meantime, have a great day!
LCF Twitter Team