Yorkshire lawyer fights to deliver knock out blow to cancer
Sarah McCann, who is part of LCF Law's residential team at the company's Bradford office has fought to raise£1,000 for Cancer Research by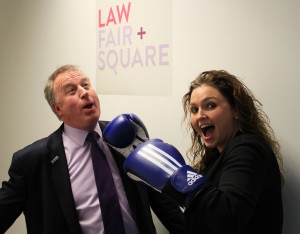 taking part in an Ultra White Collar Boxing competition this Sunday 3rd April at Elland Road in Leeds.
Shewas sponsored by the firm and her colleagues to take part in the challenge, which sees people with no previous boxing experience, take to the ring in a safe and enjoyable environment whilst raising money for Cancer Research.
Sarah says: "LCF made a generous donation to be my sponsor on the night where I competed in front of 2,000 people against a well-matched opponent. I went three rounds and have a bloodied nose to show for my efforts, but despite losing, I had a great time and most importantly have helped in the fight against cancer by raising £1,000 for Cancer Research."
Sarah's brother is a professional boxer and her dad is a retired professional boxer who now coaches. Both her dad, brother and several other family members travelled from Ireland to Yorkshire to support her on the night. Sarah says: "I couldn't have tackled this challenge without the amazing support I have received from LCF Law, work colleagues, friends and family who have all been incredible."
Julie Davis, Director at LCF Residential, the conveyancing arm of LCF Law says: "Sarah and hundreds of other people like her across the country are hoping to raise a staggering £2million for Cancer Research in a series of boxing competitions throughout the UK, and we are absolutely delighted to have sponsored and supported her for this exciting challenge.
Sarah's been with our firm for three years now and she has progressed into the role of conveyancing executive whilst also studying for her Chartered Institute of Legal Executives qualification. She is a very determined and hardworking young professional and I she definitely applied this same spirit when she got into the ring."