Herd Group become an Employee Ownership Trust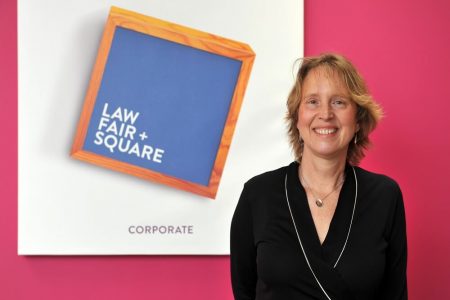 One of the UK's leading commercial vehicle rental and fleet management companies, Herd Group, is now owned by its employees, after transferring into an Employee Ownership Trust (EOT).
LCF's Corporate Partner Cathy Cook (pictured left) advised the company and Kate Naylor from Sagars Accountants, an AAB group company, provided tax and accountancy advice.
Surrey headquartered Herd Group is an expert in the provision and management of commercial vehicles within the rental and fleet management channels and has seen significant year on year growth since the business was founded in 2014. It now employs a 30-strong team and operates throughout the UK.
Nigel Schroder, CEO of Herd Group, said: "Creating this EOT provides continuity in all areas, the Herd brand will be in place for years to come and our team, who are integral in the success of the business, will all benefit as owners of the business.
"Within our industry we see many businesses being swallowed up by larger competitors or taken over by outside investors when they reach a certain size, in terms of both their fleet and profit returns. Invariably the original business and the culture of that business are destroyed, broken up and diluted, to be absorbed into the buying business or restructured under an investor. The people that built the original business become a number and the culture that created the success is forgotten.
"At Herd we have spent years building an incredible brand and a unique culture which has been built on a passion for customer care with a brilliant team, who always deliver. They are amazing and it is only right that they all share in the current and future success of Herd."
Cathy Cook said: "Herd Group is a respected and leading brand, recognised as an industry leader within the commercial vehicle rental and fleet management markets. The company was keen to safeguard its values and everything that sets it apart from its competitors and creating an EOT offered the best way of achieving this.
"This also offers tax advantages for both current shareholders and employees, and crucially has enabled the directors to transfer ownership of the company to the team, whilst retaining shares and continuing to be involved in the business to mentor the senior team. All this makes it an exciting time for Herd Group and we're looking forward to seeing the business continue to grow and thrive."
Kate Naylor, from Sagars Accountants, added: "Having worked with Nigel, Jason and Herd Group for a number of years, I was absolutely delighted to help them with this next stage of their journey, and I am looking forward to seeing how the group and the brand flourishes under this new regime."
Operationally, the Herd senior leadership team, led by Gemma Dickson, group sales director, Mike Cooke, group operations director, and Anthony McKeague, group finance director, will drive the day to day operational focus of the business.
Nigel Schroder will retain a level of shareholding in the business and along with Jason Rogerson, group commercial director and Anthony Moss, group CFO, will continue to guide the senior leadership team and the business strategically as it enters its next phase of growth.