Next generation of personal law solicitors appointed at LCF Law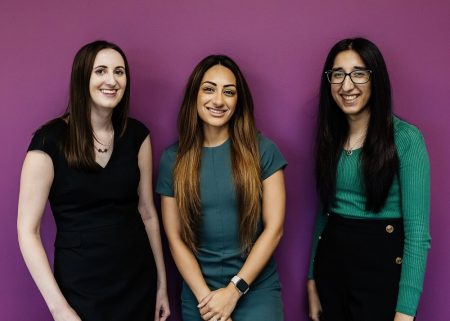 LCF Law's team of personal law solicitors is expanding following the appointment of three recently qualified solicitors, Anisha Kaur, Ennah Hussain and Jemma Hobson.
Ennah completed her training contract at a niche high-street law firm before she joined the thriving Personal Law division of LCF Law. Both Anisha and Jemma have completed their training contracts with LCF Law.
Jemma said: "Since joining LCF Law in 2021 for my training contract, I have gained a broad range of experience across the commercial property, disputes and private client departments. I received excellent support from the teams, who were approachable and friendly, whilst providing me with good feedback. I have developed both my technical knowledge and practical skills and found a real passion for private client work. When I decided to qualify in this area, I was offered extra time in the department, which was hugely beneficial. During my training contact I also became part of the firm's social committee and netball team."
Anisha said: "Before starting my training contract in 2021, I spent six months working as a paralegal in the contentious property and probate department, which was a great introduction to LCF Law. I then spent time in three areas of the firm and had a fantastic private client mentor, who always offered one to one supervision. I also worked in commercial litigation and commercial property. Within each department, I was assigned a mentor and had regular meetings to ensure I got the most out of my training."
Now qualified, both Jemma and Anisha help clients plan their affairs for their future, preparing Wills and Lasting Powers of Attorney (LPA), and work with them on inheritance tax and asset preservation. They guide clients through difficult and emotional situations with meetings online, in their home or at the hospital. They also work with other professionals, including accountants and estate agents, to help clients get their affairs in order.
Ennah advises clients on matrimonial matters, financial issues and disputes relating to children. She said: "Nowadays, thanks to the introduction of no-fault divorce laws, ending a marriage is legally more straightforward, but where people struggle, is with the financial aspects of a split, and with disputes relating to their children. We take people through the process of understanding what is or isn't a matrimonial asset for example. We also help people in civil partnerships or those living together to work through the complex issues surrounding a separation, as well as advising on disputes about children."
Partner and Head of Personal Law at LCF Law, Neil Shaw, said: "We make things as straightforward as possible and achieve the best possible outcome for our clients. We also value our team and support them with their progression, so we are delighted that Anisha and Jemma have qualified as solicitors after completing their training with us. It's also a pleasure to welcome Ennah to our 21 strong team of personal law solicitors and we look forward to advising even more clients across Yorkshire and beyond."