Trainee solicitors help deliver Christmas cheer to Bradford foodbank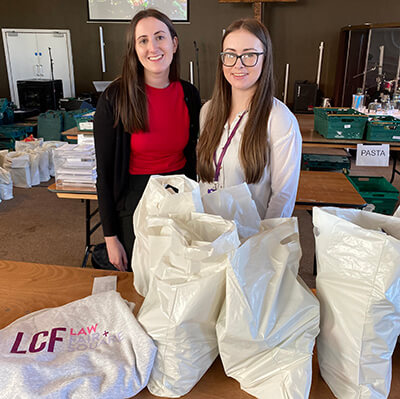 Trainee Solicitors Melanie Parsons and Jemma Hobson (Jemma and Melanie are pictured right) helped families in crisis by supporting the Bradford Central Foodbank.
All three volunteered for a day at the foodbank, and also organised a collection of food and sweet treats throughout November at the firm's head office on One St. James Business Park, Bradford.
Trainee solicitor, Jemma Hobson, said: "We collected everything from Christmas puddings and Christmas cake to chocolate, tins of soup, tomatoes, fish, meat and more and our donation was enough to build two Christmas hampers.
"We also spent the day volunteering at Bradford Central Foodbank, unpacking incoming supplies, packing food parcels, and helping in the shop and kitchen. It was a great opportunity for us to find out more about the valuable work that the foodbank does and meet some of the clients who rely on its support. The foodbank is an efficiently run and really welcoming place, where clients can also get a free hot meal, and it makes a genuine difference to lots of local people."
Bradford Central Foodbank partners with over 100 agencies across Bradford including doctors, health visitors, social workers, and police as well as the Job Centre, to identify people in crisis and issue them with a foodbank voucher. Foodbank clients then bring their voucher to the centre and can redeem it for three days' worth of emergency food.
Foodbank manager, Josie Barlow, said: "Melanie and Jemma were a great help. Although we get practical support from the Trussell Trust, which is a nationwide network of foodbanks, working to combat poverty and hunger across the UK, we are an independent local registered charity that relies on volunteers and the generosity of those that donate.
"By providing three days' nutritionally balanced emergency food and support to local people who are referred to us in food crisis, we can prevent people from going hungry. People struggle for all sorts of reasons ranging from redundancy to receiving an unexpected bill or a benefit stopping. A simple box of food makes a big difference, with foodbanks helping prevent crime, housing loss, family breakdown and mental health problems."