Rachel Spencer Robb
Rachel Spencer Robb is a Partner and Head of our Family Law team. She has over 16 years experience dealing exclusively with family law issues that arise upon the breakdown of relationships and those who wish to protect their assets at the outset of relationships. Having qualified as a mediator, Rachel can also help couples who wish to resolve issues together without going to court.
Rachel is nationally recognised as an expert in her field by independent legal guide Chambers and Partners for the last six consecutive years.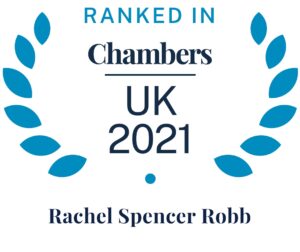 Chambers UK (2021 edition)
Rachel Spencer Robb is highly experienced in matrimonial finance matters and heads the firm's family law team across Yorkshire.
Legal Directory Legal 500 (2021 Edition) has this to say about Rachel.
"LCF Law acts for clients in divorce and separation proceedings involving client-owned businesses, negotiations over matrimonial assets, and third-party involvements, alongside child custody disputes. …family law group head Rachel Spencer Robb, who has extensive experience in high-value matrimonial finance, asset protection, and children law matters, utilising collaborative law and mediation methods."
Rachel is also a member of the Solicitors Regulation Authority Advanced Family Law Panel as well as an Accredited Specialist of Resolution (www.resolution.org).
Rachel's clients appreciate her skill and unwavering support:
"Thank you for all of your help, I know you've worked really hard on my case, and I am really pleased that I had you as my solicitor".
"Your sensitivity in dealing with complex situations plus your attention to detail and obvious range of knowledge of the financial aspects of my case inspires confidence."
"Firstly, many thanks for what you did yesterday. You were a great great help, & I can't imagine a better advocate."
Rachel's latest Info-Burst takes you through what to consider when children are involved during a relationship breakdown. – Watch Rachel's Info-Burst on what is considered when looking at financial matters – Will I get a fair share on divorce?
Call Now : 01943 885 790 or email ku.oc1618916084.fcl@1618916084bborr1618916084ecnep1618916084sr1618916084