Rachel Spencer Robb joined LCF Law over 10 years ago having worked in national and regional city centre firms (Irwin Mitchell and Clarion).
She was made a partner in 2013 and now heads our Family Law team across the offices, dealing with clients in the region and beyond.   Her focus is mainly on the financial aspects of family law, advising clients on the protection of wealth and the impact of separation and divorce on businesses, pensions and other client assets.   She does however also deal with the issues around child care arrangements.   Working closely with our corporate and wider personal law team, Rachel's clients range from the directors and shareholders of business or their spouses, to the multi generational private clients seeking to protect wealth as it passes down the family lines.
Rachel is recommended in nationwide legal directories, Legal 500 and Chambers and Partners and is respected by peers and the wider profession.  She has appeared on BBC Radio Leeds as well as local media channels and regularly hosts seminars on the topical legal issues that may have an impact on clients.
Rachel Spencer Robb is a member of Resolution, an accredited mediator, Collaborative Law practitioner and is accredited as an advanced  member of the Law Society Family Law Panel
Recent matters in which Rachel has been involved
"Bank of Mum and Dad" – Rachel represented a mother who lived in USA who had provided funds to purchase a property for her and daughter and son in law in England who were then getting divorced. The son in law argued that the funds provided by our client was a gift and therefore was available for him to claim upon for himself.   The daughter was supportive of the mother's case.  The matter went to a 2 day trial to decide whether the funds from our client were hers or owned by the couple.   We won the case and the judge found that our client should be repaid her funds provided and only then could the couple divide what was left between them.
Children to live with Father - Successfully represented a father in an application to change a historic Childcare Arrangements Order as the mother, despite being the main carer for the children, had subsequently had more children with a new partner and as a result was not able to ensure that the children were attending school on time, there were elements of domestic violence in her household and the father sought an order that the children live with him.   Social Services and CAFCASS were involved in the case and, despite the matter being contested by mother, following a final hearing an order was made that the children live with their father where they have been ever since.
"Protecting wealth" - Advised a father and son who were directors and shareholders in the family business which was being passed down the generations. Both were in married (father to his second wife and the son to his first).  Post nuptial agreements were drafted for both the father and the son to record that should either of their marriages break down, the shareholdings in the family business would not fall into the matrimonial pot to be divided and any claims of the wives would be met from other assets.   Wider advice was given on the benefits of pre and post nuptial agreements to enable the parties to control the outcome in the event that their relationships broken down.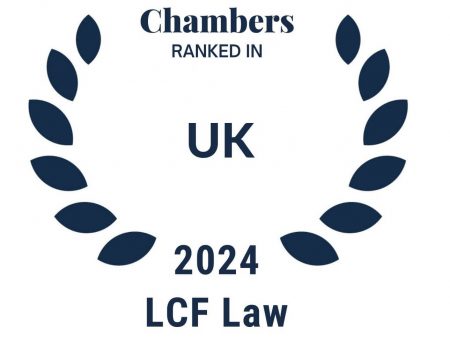 Chambers and Partners (2024 edition)
Rachel Spencer Robb of LCF Law is highly experienced in matrimonial finance matters and heads the firm's family law team across Yorkshire. In addition to divorce and marital agreements, she also assists with complex children matters.
Legal Directory Legal 500 (2023 Edition) has this to say about Rachel.
"The 'practical and solution-focused' family team at LCF Law is headed by the 'excellent' Rachel Spencer Robb. The team advises on high-value matrimonial financial disputes; advising owner managed businesses and individuals on the implications of divorce or separation. In addition, it handles complex custodial children's matters in relation."
Rachel is also a member of the Law Society's Advanced Family Law Panel as well as an Accredited Specialist of Resolution (www.resolution.org).
Rachel's clients appreciate her skill and unwavering support:
"Thank you for all of your help, I know you've worked really hard on my case, and I am really pleased that I had you as my solicitor".
"Your sensitivity in dealing with complex situations plus your attention to detail and obvious range of knowledge of the financial aspects of my case inspires confidence."
"Firstly, many thanks for what you did yesterday. You were a great great help, & I can't imagine a better advocate."
"On this case and occasion we couldn't have been looked after better by Rachel. She is a lovely person, and straight to the point, extremely professional and understanding and very prompt in getting back to me"
Rachel's latest Info-Burst takes you through what to consider when children are involved during a relationship breakdown. – Watch Rachel's Info-Burst on what is considered when looking at financial matters – Will I get a fair share on divorce?