LCF Law encourages everyone to 'go green' with recycling campaign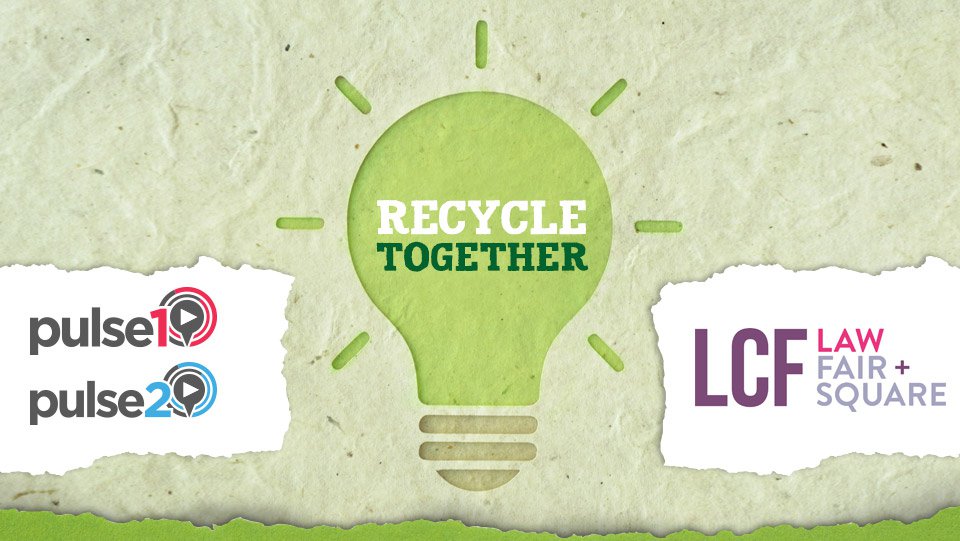 LCF Law has joined forces with Pulse 1 and Pulse 2 Radio to promote recycling, as well as launching its own project to reduce waste and recycle more across its offices in Leeds, Bradford, Harrogate and Ilkley.
Simon Stell, Managing Partnerexplained: "We employ a 145-strong team and we value their opinions. After inviting suggestions from our entire team as part of our ongoing corporate social responsibility programme, we found that recycling was a top priority for many people. The overarching goal is to reduce our impact on the planet, whilst helping people in our local communities do the same.
"We have partnered with local radio stations Pulse 1 and Pulse 2 encouraging everyone to 'recycle together', raising awareness of what can and can't be recycled and how to best achieve a greener future. According to DEFRA, only 27% of household waste is currently recycled across Kirklees, the worst rate in the country, so the radio campaign will help to highlight the growing range of materials that can now be recycled across West Yorkshire and the different areas. We will also be running a 'Back to School' promotion with local schools highlighting recycling and teaching from a young age along with a workplace promotion encouraging them to go green and recycle whilst adding a bit of fun!
Our Goal
"In addition, our company goal is to use significantly less paper and printer toners by 2021. The legal industry has traditionally been very paper heavy - but we have always embraced technological advancements, and see ourselves as early adopters. In fact, we even registered our domain name before Google, 21 years ago this year! We have a fantastic cloud based IT system, can easily scan and email documents, and are confident we can achieve our recycling targets."
For more details of the campaign, which will run from 19th August, through to October, visit: https://www.pulse1.co.uk/features/recycle-together-with-lcf-law/