LCF Law 'hails' new era of growth with city expansion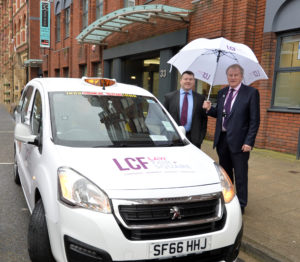 LCF Law's move from Sovereign Street follows a significant and sustained period of business success, with an 11% increase in turnover in its last financial year. The firm, which also has offices in Bradford, Harrogate and Ilkley, also recruited seven new people within the same timeframe, and plans to create a further 20 jobs in the next 18 months, in Leeds alone.
In total, 35 of the firm's 145-strong team from across its corporate, commercial, disputes and property divisions are now based in the 6,000 sq ft office on Park Place. The building has recently benefitted from a £1 million investment and refurbishment programme.
The time was right
Simon Stell, managing partner at LCF Law, said: "The time was right to significantly expand our Leeds city centre office following a significant influx of new work and we are delighted to relocate to 33 Park Place, in the heart of the city's legal and financial district.
"In recent years we've worked hard to become more efficient and improve productivity, as well as continually investing in our team, assisting them to achieve their full potential, and we're now seeing the benefits of this ongoing strategy. With increased levels of repeat business and significant new client wins, the firm is poised for considerable future growth.
"From our new base in Leeds, as well as from our other offices in Bradford, Harrogate and Ilkley, our experienced lawyers and support staff, many of whom are award winning, will continue to deliver legal services that exceed our client's expectations. Our focus on communicating clearly, listening to our clients and acting in accordance with agreed instructions, timescales and budgets is what sets us apart from our competitors."
Pictured above at 33 Park Place, LCF Law's Managing Partner Simon Stell and Disputes Lawyer Roger Raper.