Legal eagles soar to new heights for charity
Twoof LCF's finestwill be abseiling from the top of Ripon Cathedral to raise money for its development plans.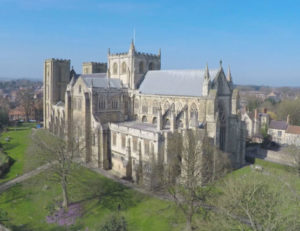 Partner, Rachel Spencer Robb, who is the Head of Family Law and Tracey Lawrence, who is a commercial property secretary based in Bradford for the past 20 years, will abseil 115ft off the South West Tower of Ripon Cathedral on 18th May.
Ripon Cathedral Renewed
Everyone taking part in the challenge will raise money for Ripon Cathedral Renewed - which is supporting the development plans for a 21st Century Yorkshire Cathedral - and can also support their own chosen charity.
Rachel said: "I'm really excited about the challenge and can't wait to see the views over the city of Ripon. As part of the development campaign, we became a principal business partner of the iconic North Yorkshire landmark earlier this year. Through the prestigious partnership, LCF Law is playing a vital role in the preservation and development of the Cathedral, which is central to the local community and the heritage of Yorkshire. This fund-raising abseil is another way for us to support the Cathedral."
Tracey said: "I did an abseil once before, when I was at school, so it's a while since I have scaled such heights, which I also have a fear of, so I'm sure I will be feeling rather nervous on the day but it's all for very good causes."
Tracey is also supporting the Soi Dog Foundation, which helps to improve the welfare of street dogs and cats in Asia. Established in Phuket in 2013, it runs a sterilisation programme and also rescues dogs from meat farms and slaughter houses. The charity also vaccinates, provides medical treatment, shelter and finds adopted owners.