Legal365 is LCF Law's Property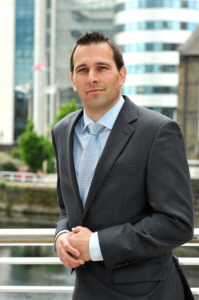 The Commercial and Intellectual Property (IP)team at leading Yorkshire law firm, LCF Law, has won a case protecting its trailblazing online Legal365.com service.
LCF Law's Commercial and IP Partner, James Sarjantson, successfully protected the Legal365 brand name following an attempt by a Danish legal practice software management company to register that mark as a European trademark (EUTM).
Legal365.com was launched in 2010 as part of LCF Law's drive to provide easy access to legal documents and services online. It enabled users to create and download everything from Power of Attorney documents and Wills for individuals, through to Employment Agreements for businesses. Legal365.com subsequently evolved into a leading legal library resource where people can easily find answers to various legal questions for free.
Following the application from the Danish company, which provides IT services to law firms across Europe, LCF Law submitted detailed evidence to the European Union's Intellectual Property Office (EUIPO) to demonstrate that the Danish company's registration of Legal365 for IT services would adversely impact LCF Law's and Legal365's IP rights.
James explained:
"We objected to the Danish firm's trademark application on the basis of our own pre-existing UK trademarks for Legal365 and Legal365.com, and we had to demonstrate that another company registering it across Europe would be detrimental to our brand. It wasn't straightforward as our Legal365.com service has changed significantly over time, but our team worked very hard to systematically evidence the goodwill and distinctive character developed in that mark as a result of LCF Law's extensive use of it. The EUIPO ruled in our favour and we are delighted that Legal365.com can now continue to operate without the threat of its trademark being infringed."
The case is one of the many that LCF Law has worked on to protect the intellectual property rights in everything from domain names, to services, products, designs and technology. James added:
"All businesses can suddenly find themselves facing these sorts of challenges where trademarks are concerned. Another example is a Yorkshire-based client who recently objected to a competing London-based business registering as an EUTM, a brand name very similar to that used by our client. Our submissions to the EUIPO resulted in the competing business's application being refused, thereby protecting our client's own brand name.

However, with Brexit looming, there is still very little guidance on how UK brand owners who have registered EUTM's can continue to protect their brand in the UK when we exit the EU. We continue to advise our clients on these issues to ensure their brands are fully protected."