New commercial solicitor joins LCF Law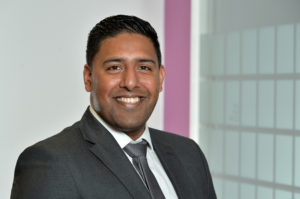 The Commercial and Intellectual Property (IP) Departmenthas expanded its team with the appointment of new solicitor, Abid Perwaze, who joins the firm's Leeds office.
Abid moves from Teesside firm Jacksons Commercial & Private Law, where he spent two years completing his training contract. He also previously worked as a paralegal at Gordons in Bradford. Abid graduated from the University of Teesside, where he won two academic achievement awards, and he later qualified from the University of Law in 2014.
Abid will work with LCF Law's Commercial and IP Partner, James Sarjantson, providing a range of commercial contract and IP services. Advising on contentious and non-contentious matters in respect of IP rights, including in particular, trademarks and design rights, IT contract advice, as well as drafting terms and conditions, framework and supply contracts and non-disclosure and outsourcing agreements.
The firm works with owner-managed businesses, franchisees, SMEs and larger PLCs.
James said: "At LCF Law we work for all sorts of business, many of whom are operating predominantly or exclusively online, as well as IT and software firms and a number of chemical and industrial companies.
"Abid is a bright young professional, keen to specialise in Commercial and IP Law, and our busy department will be a great place for him to further his experience working with a host of businesses from across the UK who are developing, manufacturing or selling innovative products and services.
"We help companies to exploit their intellectual assets, and ensure their contracts work to protect their interests. In doing so, we translate complex concepts into language our clients understand. Abid has the relevant experience and technical capabilities needed to succeed in this area of the law and he is a welcome addition to our team."