Tom Edwards, adventurous spirit sees him scale new heights.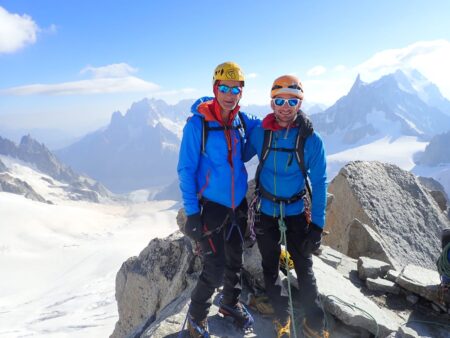 Tom Edwards is a Partner and litigation solicitor within the Disputes team. He recently recently featured in the Yorkshire Post, talking about his passion for adventure.
I have always been adventurous, which is a trait I inherited from my parents. Both my mum and dad are very active and have travelled all over the world on an old Royal Enfield motorbike. We used to regularly go walking with family and friends when I was younger. It gave me a real appreciation for the outdoors and I enjoyed the sense of escape it gave me from the routine of school.
When my dad turned 40, he decided to get fitter and started running competitively. My mum also regularly ran half marathons and they both recently completed a marathon starting at Mount Everest base camp. It was exciting to see their successes and from about the age of 17, I started running with my dad, and was soon completing half marathons and longer off-road events.
My running became more series when I joined Sheffield University. With the Peak District on my doorstep, I enjoyed running with like-minded people of my own age as part of Dark Peak Fell Runners. I also joined the University's climbing club and orienteering club. We would all pile into a car and head out a couple of times a week, as well as at weekends, running for three or four hours at a time and would follow it up with a hearty pub meal and a few beers at just £1 per pint – those were the days!
I started fell racing all over the UK and competed in two-day adventure races with a teammate. This would involve carry everything you needed on your back including a tent. With a map in my hand we would run for six to eight hours the first day, pitch our tent and do the same again the next day. I did these races in the Lake District, Peak District and all over Wales and Scotland. They were a great way of learning to be self-sufficient, they made you resilient and tested your capacity for suffering. It was all very character-building stuff. I remember one occasion in Scotland when the midges were so bad, that they sounded like rain on the tent. On another occasion, our tent flooded, so we were lying in about three inches of freezing water all night. We agreed to ban headtorches so that we couldn't see how wet and awful it was.
I took these skills and carried on with the fell-running challenges into my mid-20s, but then I was injured during a short fell race and was air lifted to hospital, much to the amusement of my friends, two of whom came wobbling up the hill with a pint of beer from the village show beer tent to help "with the pain". Unfortunately, the paramedics wouldn't allow me to have it! Once recovered, I swapped the fells for racing 800 and 1500 metres on the track and joined Leeds City Athletics Club.
I enjoyed the intense nature of training 10 times a week. I would train with the club three times a week and then do the rest with friends. I was very committed to my work at LCF and divided my time between working and running – which didn't leave much time for anything else. The racing was seriously competitive, but I always had teammates to train with, most of whom were far better than me. Some of them were competing in World, European and Commonwealth Championships at the time, and their drive and commitment was encouraging and inspiring.
When I reached age 30, my body wouldn't withstand any more track running, so I thought I'd have a go at mountaineering. I 'roped' my father into it as well, so we could do something together. Mountaineering was a great option for both of us, it combined our love of the outdoors with endurance, and we started walking and climbing together.
Twice a year we set off on an adventure and have climbed all over England, Scotland, Wales and Europe. We have scaled The Matterhorn, Dent du Geant and the highest mountain in Western Europe – Mont Blanc, amongst others. My passion for adventure has recently developed into wanting to do more ski touring, so with my partner, I've been ski touring in Arctic Norway and, Coronavirus permitting, I hope to ski with her from Chamonix to Zermatt over the famous Haute Route in the Spring.