Two new additions to the LCF family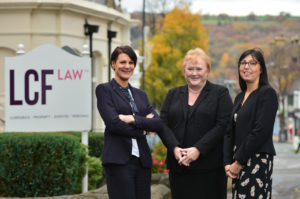 Well-respected solicitor, Ann Hallmark, (pictured center) has joined our team of legal family experts which spans the firm's four offices
in Yorkshire. With more than 30 years' experience in the legal industry, Ann has been qualified as a family solicitor for 21 years, and will be based in the firm's Ilkley office.
Ann advises on every aspect of family law from divorce, to pre and postnuptial agreements, co-habitee agreements, financial disputes and private law children matters. With a first degree in psychology, Ann is a member of the Law Society Family Law Advanced Panel.
Sue Butterill (pictured left), a Chartered Fellow of Legal Executives has also joined the team, Sue has worked in the legal industry for 22 years helping clients who are separating as well as those who have suffered domestic abuse. She will support Ann, Bradford-based family expert Harjit Rait, and head of family law, Rachel Spencer Robb.
Rachel (pictured right) said: "Operating across Leeds, Bradford, Harrogate and Ilkley, we feel we have first class experience and expertise to offer our clients who are going through extremely stressful situations. We offer trusted professional advice, highly specific to their circumstances.
"During disputes or turmoil, it's important that people feel they have someone to turn to for reassurance and guidance. Mediation, as a less confrontational, less expensive and faster alternative to going to court to resolve a whole host of scenarios, often involving children or finances, is something we do on a regular basis, alongside resolution of disputes through the courts where necessary.
"Both Ann and Sue are highly capable and experienced in supporting families with the greatest level of understanding and care, so we are delighted to have them on our team."