LCF Law trusts in new partnership to help grow trees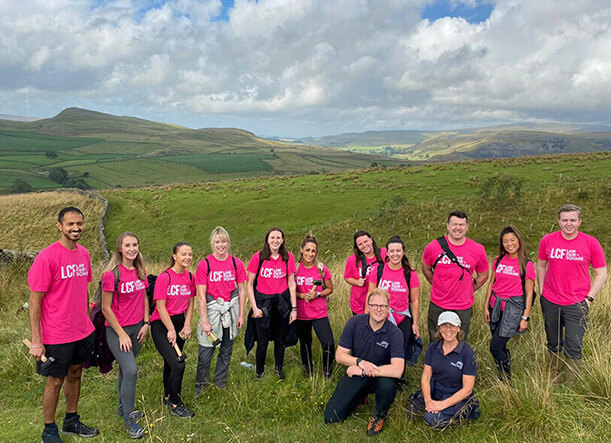 A team from LCF Law plant hundreds of trees and help with maintenance work at their first volunteering day
LCF Law is helping to address the climate and biodiversity crises, whilst supporting the creation of beautiful new woodlands for everyone to enjoy, through a new partnership with the Yorkshire Dales Millennium Trust.
The firm will support the charity with the planting of 1,000 trees over the next two years, making make a significant difference to the people, landscapes, and wildlife of the Yorkshire Dales.
Managing Partner, Simon Stell said: "We are hugely committed to working sustainably and offsetting our carbon footprint and we also want to leave a long-term legacy. According to the Climate Change Committee, in order to achieve net zero emissions by 2050, tree cover must rise to 19% of the UK – it's currently at 13%. The Woodland Trust says we would need about 1.5bn more trees, which is a staggering number! Sometimes these figures and the issue of climate change can seam insurmountable, but if everyone does a small amount to help, positive change really is possible.
"In addition to the tree planting, we are keen for our team of 125, who are based in Bradford, Leeds, Harrogate and Ilkley to have the chance to get to know more about the vital work of the Yorkshire Dales Millennium Trust. This partnership will enable us to not only to plant a large number of trees, but also volunteer at the Trust too."
Development officer at the Yorkshire Dales Millennium Trust, Richard Hore, said: "We are really lucky to have the backing of a business like LCF Law and really enjoyed welcoming their team to their first volunteering day as part of our summer maintenance work. There is a real groundswell to help nature recover and engaging local people and businesses is vital as we move forward in this climate crisis."
In 2021 Yorkshire Dales Millennium Trust planted 31,851 trees and more than 5,500 people benefitted from its projects, with £160k given to local organisations and partnerships that make a real difference to their communities. The Trust also continues to make significant inroads into reversing the decline of the most precious hay meadows and has restored 40 hectares of meadow in the Forest of Bowland. Across the Dales it has also helped groups create 23 wildlife patches, gardens and ponds.